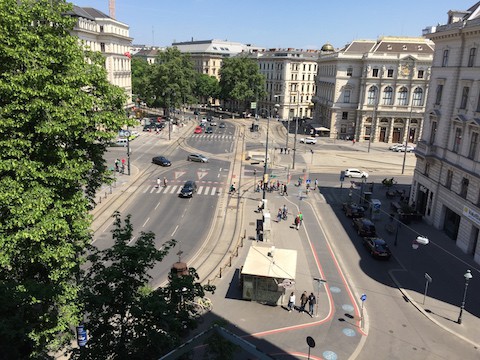 What do you think of when you think of Austria? The raucous charity event Life Ball? Orson Welles' The Third Man? The von Trapps? Vienna, the picturesque capital city of the Eastern European nation, is not only the most livable city in the world, according to an international survey, but it's also the perfect place for travelers to spend a long weekend.
Vienna offers contemporary art, music and cultural experiences set amongst grandiose old world architecture. For American travelers, the city's a breeze to navigate (most everything is walkable, and, when not, there's always Uber), and nearly every single person we encountered spoke English. Gay travelers in particular can feel at ease in Vienna, an open, inviting city at the forefront of LGBT support in Austria. From the massive HIV/AIDS charity event Life Ball taking over City Hall, to the beloved, bearded 2014 Eurovision Song Contest winner Conchita Wurst, to even the traffic lights, Vienna showcases its LGBT community with pride.
If you've got a few days to spend in Vienna, check out some of our favorite spots below.
Stroll
Much of Vienna's charms can easily be seen while walking the streets. The cobblestone streets and baroque buildings feel as if you're walking through a storybook, right past notable attractions, like St. Stephen's Cathedral.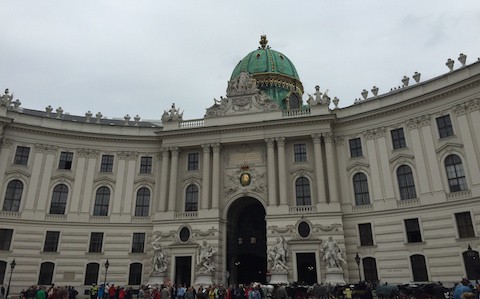 To take in a bit of Vienna's history, stop by the Hofburg Palace. Grab an audio guide and make your way through the Sisi Museum, so named after Empress Elisabeth, assassinated in 1898.
If you weren't already convinced that money and fame don't guarantee happiness, Elisabeth's tale of ennui and dissatisfaction with court life certainly shows palatial living ain't all it's cracked up to be.
It's an interesting contrast to two other exhibitions at the Hofburg Palace, the Silver Collection (essentially a massive collection of very fancy flatware) and the Imperial Apartments, which allows visitors to walk through the living quarters of Empress Elisabeth and Emperor Franz Joseph.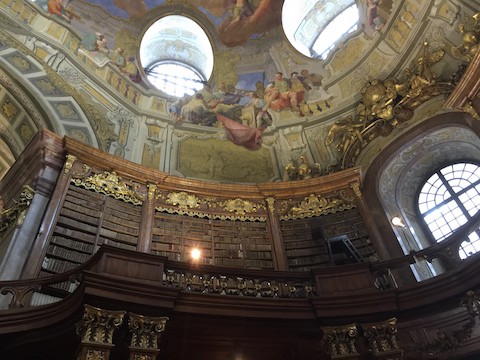 While visiting the Hofburg Palace, don't miss a chance to see the State Hall at the National Library.
The Prunksaal, the grandiose hall at the center of the imperial library, boasts gorgeous mural ceilings, antique maps and, of course, books lining the walls. The sheer beauty of the space is overwhelming.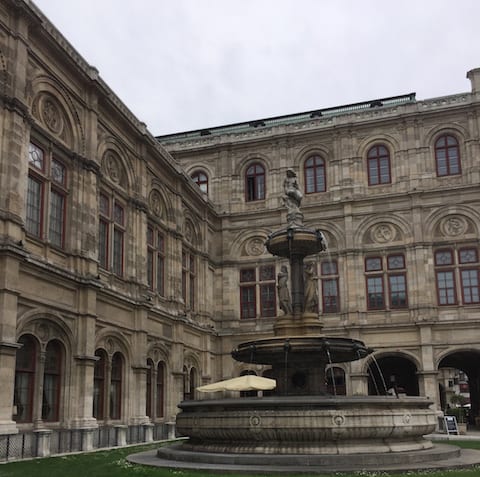 See the impact of two famous gay Austrians at the Vienna State Opera, designed by architects Eduard van der Nüll and August Sicard von Sicardsburg.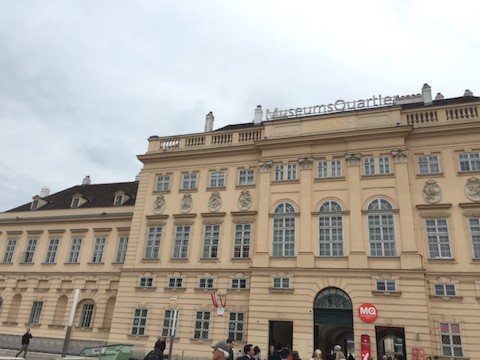 For a taste of modern art, swing by the MuseumsQuartier, where former Habsburg stables now house galleries, shops and restaurants.
A hip young crowd gathers on the painted benches out back, themselves a work of art.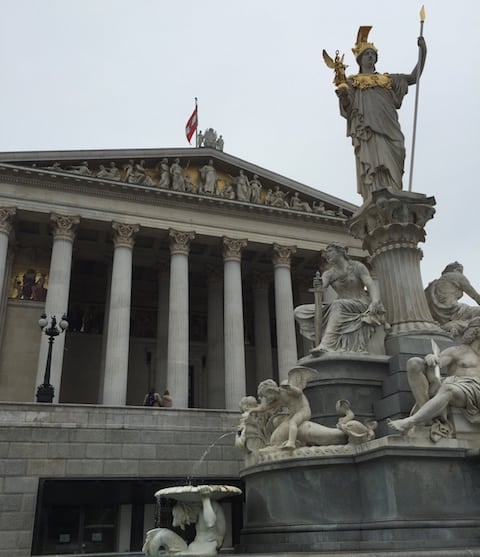 A short walk from the MuseumsQuartier is the Austrian Parliament Building.
One of the largest buildings on the Ringstraße, the neo-Greek structure itself is worthy of a photo opp, but we were particularly taken with the Athena Fountain. With the titular goddess standing in the center, the four figures at her feet represent rivers from the Austrian-Hungary Empire.
Sip
Vienna is no place for a paleo diet. You can't walk a block without passing one beautifully appointed cafe after another, each full of unimaginably delicious sweets.
Coffeehouse culture is a huge part of the Vienna experience, creating an atmosphere where anyone is welcome to linger with a cup of joe. Coffee is always presented beautifully, served alongside a glass of tap water.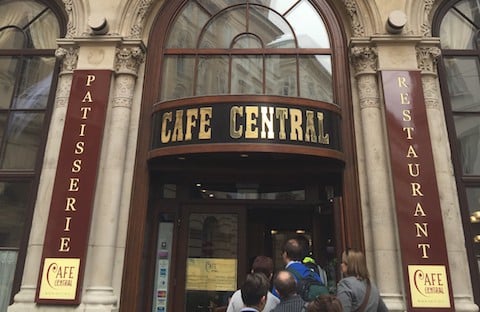 One of the most famous cafes in Vienna is Café Central. Writers, intellectuals and world leaders have frequented the cafe, located presently in the ground floor of the former Bank and Stock Market, since 1876. Notable patrons included Leon Trotsky, Hitler and Sigmund Freud.
The spot is a popular tourist destination, so expect a bit of a wait. However, once inside, you'll marvel at the displays of delicious cakes and pastries. We recommend the Altenbergtorte: a chocolate cake with white, dark and milk chocolate mousse.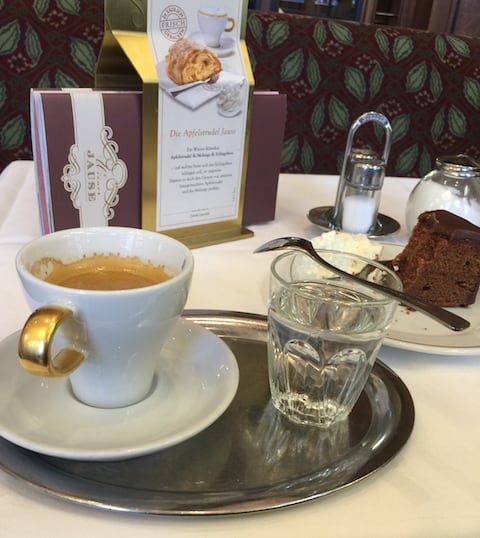 No visit to Vienna is complete without a piece of Sachertorte. The dense chocolate cake has dark chocolate icing and is typically served with unsweetened whipped cream. There was actually a legal battle over which establishment could claim the original Sachertorte.
Technically the "original" Sachertorte is served at Hotel Sacher, while you can get the Eduard Sache Torte (so named for the creator's son who perfected the recipe) at the Demel bakery. No matter where you get one, they're delicious. (Seriously, we even had a divine piece in the airport.)
Located near the Naschmarkt, Cafe Savoy is a lovely stop for some breakfast after shopping or to grab a drink before heading out for the evening. The particularly gay-friendly shop was designed by a student of the same gay architect who designed the Opera House, August Sicard von Sicardsburg.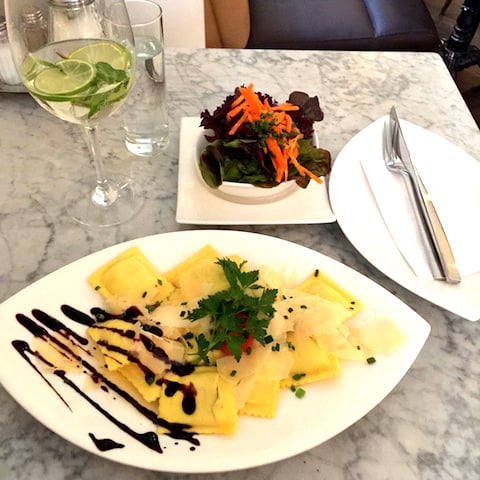 While you could easily spend your time in Vienna just eating amazing cakes for every meal (and there were many meals where we did just that), if you're looking to treat your savory side, cozy up in Cafe Berg. Adjoined with Löwenherz bookstore, this contemporary cafe's menu boasts delicious dishes like truffle ravioli. Unwind with your literary finds over a white wine spritzer served with mint and elderflower syrup.
Cafe Berg is one of the earliest prominent gay cafes, with big windows and a large mural of two men in briefs kissing.

Shop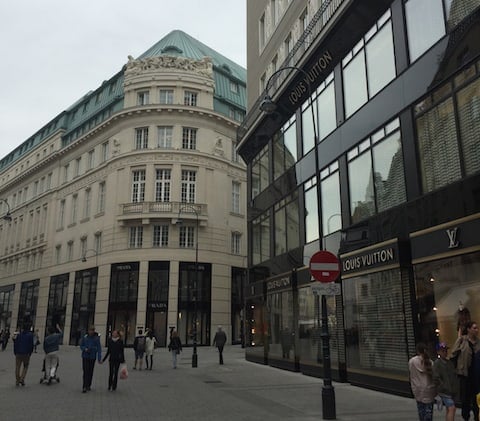 If you've got some Euros to burn, take advantage of the exchange rate at the Goldenes Quartier. The luxury shopping district, nestled between Tuchlauben, Bognergasse and Am Hof, and it's a delight to walk through, even if only to window shop. You can pop into Prada, Alexander McQueen, Louis Vuitton and other designer shops.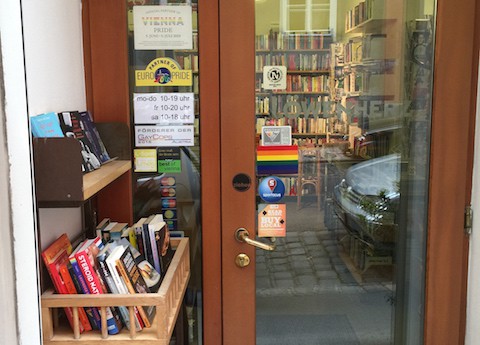 A must-see for gay travelers is Löwenherz bookstore. The LGBT shop has a huge collection of books in English and German, as well as films and art. While browsing books, we spent time chatting with owner Jürgen Ostler about the changing attitudes in Austria. He spoke about Eurovision Song Contest winner Conchita Wurst — whose face adorned magazines and brochures all over the shop — and the impact the bearded singer has left on Vienna.
He shared one particular memory of seeing Wurst perform in a huge crowd with little children wearing Wurst's signature beard while sitting on their fathers' shoulders. Once you find the perfect paperback, slip into the adjoining Cafe Berg.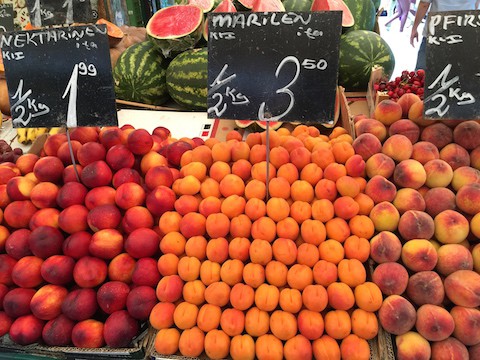 No visit to Vienna is complete without a visit to the Naschmarkt, a farmers' market and flea market. Swing by on Saturday mornings to see colorful fruits and vegetables. Make your way through the crowd, then treat yourself at the nearby Cafe Savoy.