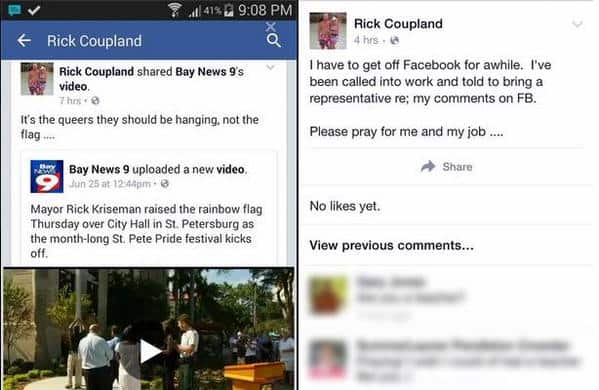 A professor at St. Lawrence College in Ontario, Canada, has come under fire for a virulent anti-gay post on Facebook.
Rick Coupland posted a story about the city of St. Petersburg, Florida raising a rainbow flag for its Pride festival, adding a comment that read, "It's the queers they should be hanging, not the flag…"
A former student screenshot the post and reported the professor to school authorities, as The Huffington Post reports. Coupland then posted a follow up saying, "I have to go off Facebook for awhile. I've been called into work and told to bring a representative re: my comments on FB. Please pray for me and my job…"
Kelly Wiley, SLC's director of marketing and communications, confirmed that the school is investigating but would not comment on the specific complaint, the Whig-Standard reported.
"We have several policies that apply to the conduct of our employees," she told the newspaper.
"This includes the fact that we adhere to the Ontario Human Rights Code, we also have harassment policies, a policy around outside activities of college employees, and our collective agreement."
Coupland was expected to meet with the college on Monday and Tuesday. He said it was "too early" to comment when reached by Metro on Thursday.
Watch a news report on the incident below:
[Image via Twitter]