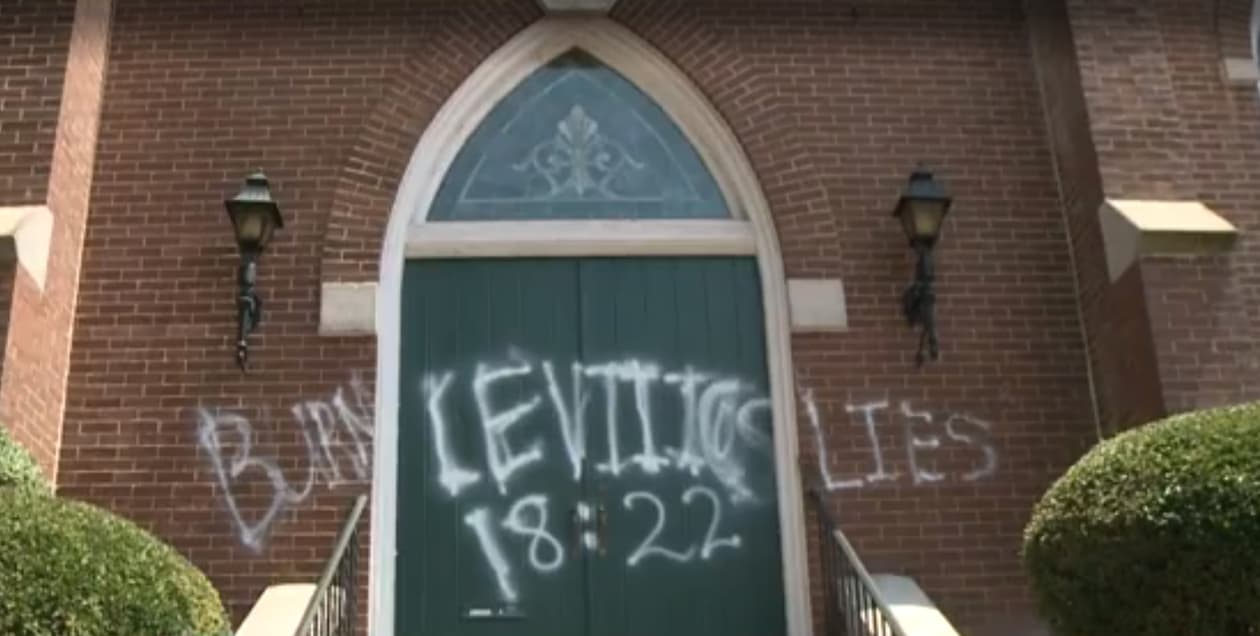 One of Augusta, Georgia's oldest and most inclusive churches was targeted by vandals who spray-painted the front door, steps and bricks of the church with anti-gay messages of hate.
Across the front entrance to the Metropolitan Community Church of Our Redeemer, the vandals painted the words, "BURN," "LEVITICUS 18:22" and "LIES." On the church's granite stairs, the vandals spray-painted, "LEVITICUS 18:20" and "YOU'LL BURN."
As WRDW notes, Leviticus 18:22 reads, "Do not have sexual relations with a man as one does with a woman; that is detestable."
The pastor of the church, Rev. Rick Sosbe, is gay and, along with his husband, was one of the first same-sex couples in the county to seek a marriage license once it became legal to do so.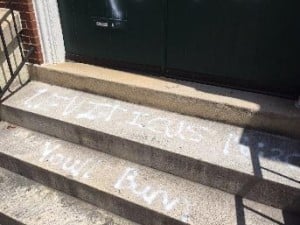 Said Sosbe,
"What darkness is in their heart to do something so ugly?"
"If people want to be worried about my soul, they can be worried about my soul. I know it's fine. But, don't be so mean and hateful just because you don't understand or maybe you're fearful," he said. […]
"That [graffiti] was not put on there by a Christian person, in my opinion, because a Christian is known by their love," the pastor said.
Volunteers on Tuesday showed up to scrub away the hatred left by the vandals. Rev. Sosbe added,
"Joseph tells his brothers, 'What you intend for harm, God turned around for good,' and I thought the same thing about our situation."
The Church was recently targeted by vandals who stole the church's rainbow flag that flew above a sign that reads, "Welcome all."
Members of the church held a rally to express unity last night on the steps that were vandalized.
The graffiti appears to have been cleaned from the front door at this point, but cleaning crews are having difficulty removing spray paint from the brick.
Watch news reports on the anti-gay vandalism below:
[Images via WRDW]