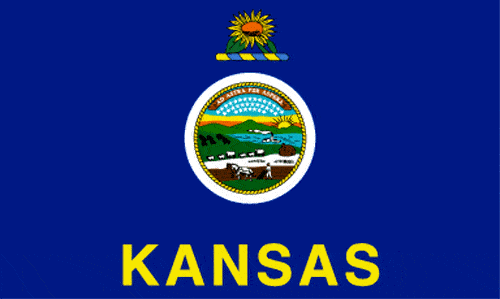 After a protracted battle against gay marriage, the state of Kansas has finally conceded defeat.
However, the state's Republican governor, Sam Brownback, also today signed a 'religious freedom' executive order that will prohibit the state government from taking action against an 'individual clergy', 'religious leader', or 'religious organization' that does not want to "participate" in same-sex marriages.
KCUR's Peggy Lowe broke the story of the state's caving on same-sex marriage.
More than a week after #SUPCO decision, Kansas Gov. Brownback OKs state agencies to give marriage benefits to same-sex partners. @kcur

— PeggyLowe (@peggyllowe) July 7, 2015
After more than a week of saying his office was reviewing the decision, Brownback quietly allowed agencies on Monday to do things like place state workers' spouses on health care plans.
Eileen Hawley, Brownback's spokeswoman, on Tuesday downplayed the move, saying it wasn't a "directive" from the governor's office. They had been undergoing "a thoughtful process" to comply with the June 26 high court ruling, she said.
"We are a nation of laws and we will comply with the laws of the nation," Hawley said.
The news came to light when the Wichita Eagle reported that a Johnson County lesbian couple were allowed to change their names on their drivers' licenses, a process that goes through the Department of Revenue.
Revenue spokeswoman Jeannine Koranda confirmed Tuesday that the agency was allowing the changes to drivers' licenses, if the couple has a marriage certificate. Just one couple had taken advantage of the new policy, she said, and the Wichita Eagle reported the new licenses were issued to a Johnson County lesbian couple.
Officials also were working on other policies in the department, such as couples' joint filing of personal taxes, Koranda said.
"It's a significant task," she said.
As for Brownback's 'religious freedom' executive order, Brownback's office released a statement saying,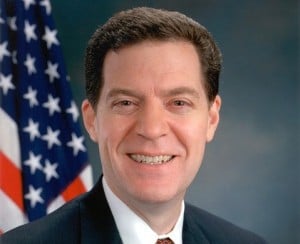 The Executive Order recognizes that the protection of religious liberty from government infringement is a fundamental state interest and complements the protections of the First Amendment of the U.S. Constitution and Section Seven of the Bill of Rights of the Kansas Constitution. EO 15-05 prohibits state government from taking any discriminatory action against any "individual clergy or religious leader," or any "religious organization" that chooses not to participate in a marriage that is inconsistent with its sincerely held religious belief or moral conviction that marriage is or should be recognized as the union of one man and one woman.
In his statement, Brownback made sure to mention that he disagrees with the Supreme Court's ruling:
"We have a duty to govern and to govern in accordance with the Constitution as it has been determined by the Supreme Court decision. We also recognize that religious liberty is at the heart of who we are as Kansans and Americans, and should be protected.
"The Kansas Bill of Rights affirms the right to worship according to 'dictates of conscience' and further protects against any infringement of that right. Today's Executive Order protects Kansas clergy and religious organizations from being forced to participate in activities that violate their sincerely and deeply held beliefs.
"While we disagree with the decision of the Supreme Court, it is important that all Kansans be treated with the respect and dignity they deserve."