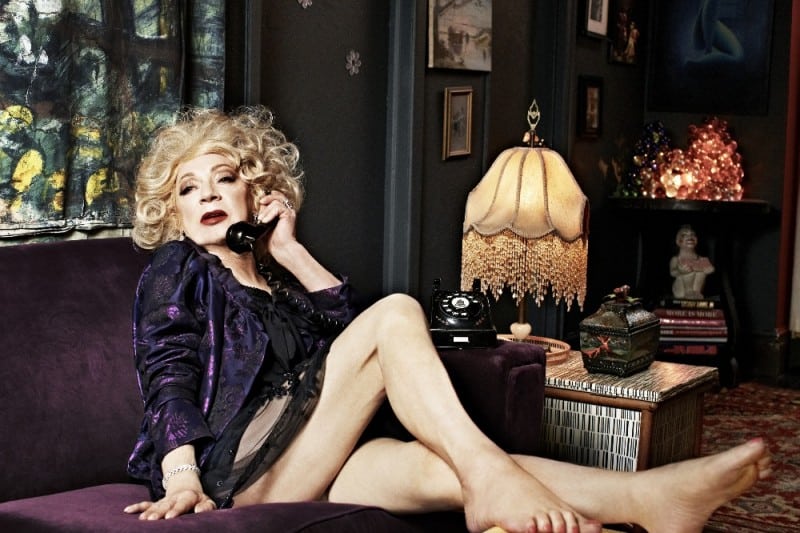 Transgender Warhol icon Holly Woodlawn is fighting for her life at Cedars-Sinai Hospital in Los Angeles, too weak to undergo a biopsy to determine the cause of liver and brain lesions, reports Seth Abramovitch at The Hollywood Reporter.
Woodlawn is now the subject of a GoFundMe campaign launched by her friend and fellow Warhol star Penny Arcade which has reached more than $43,000 as of this posting.
Donations would cover nursing care, and, should it come to that, funeral and burial expenses. Informed of the outpouring of support, Woodlawn was "gobsmacked" by the news, Arcade tells The Hollywood Reporter.
"We just want to create an amount of money that can take care of Holly," says Arcade, confident the campaign will hit its $50,000 goal. "She gave of herself to the world, she inspired many, many people, she saved many lives and she entertained us. For all of that she deserves to be taken care of at her weakest."
Writes Arcade on the GoFundMe page:
Holly has made it clear that she wants to return home, surrounded by friends and if she must die, she doesn't want to die in a nursing home. We who love Holly, hope to raise enough funds to continue her care and hopefully bring Holly home with 24 hour nursing care , after she recuperates in a nursing home. Currently, we have no means to achieve these goals, which also include provisions for her funeral and to  secure her last resting place. Holly gave visability long before it was comfortable to do so and also gave thousands of people both hope and pleasure.
Woodlawn starred in Warhol's films Trash (1970, opposite Joe Dallesandro) and Women in Revolt (1972) as well as many theatre productions and later bit parts in films such as Billy's Hollywood Screen Kiss. Director George Cukor mounted an unsuccessful Oscar campaign for her work in Trash.
Abramovitch also notes that she was the subject of one of Lou Reed's most famous hits:
"Holly came from Miami, F.L.A.," the late rocker sings in the 1972 classic. "Hitchhiked her way across the U.S.A. Plucked her eyebrows on the way. Shaved her legs and then he was a she. She says, 'Hey, babe, take a walk on the wild side.' "
You can find the GoFundMe campaign here.