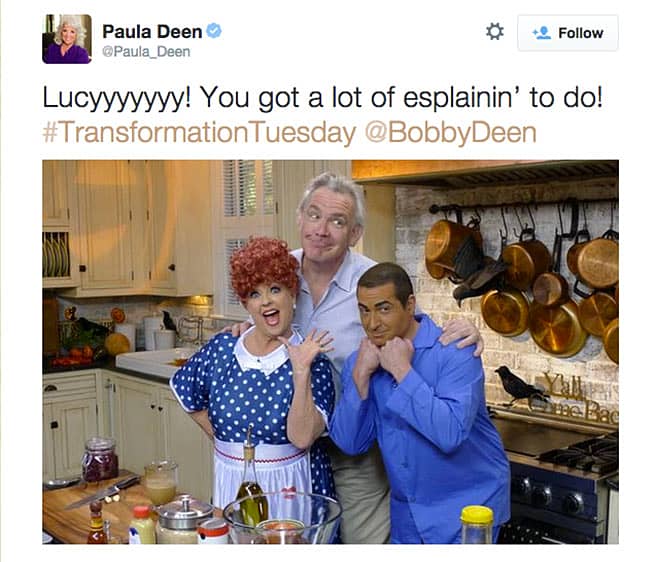 Paula Deen is getting slammed once again for being both racist and clueless after posting a 2011 photo of her son wearing brownface to her social media accounts, hashtagged #TransformationTuesday. The photo is an I Love Lucy parody shot during a Halloween episode of her TV show and features her son Bobby as Ricky Ricardo, made up to look Cuban. Deen, who deleted the post from her accounts, immediately began trending on Twitter.
The caption of the photo read: "Lucyyyyyyy! You got a lot of esplainin' to do!"
In 2013, Deen was dropped by the Food Network after a former cook brought forth accusations of racism, and Deen admitted using the N-word in a deposition for a discrimination lawsuit brought by her former employee Lisa Jackson. Deen later posted two videos apologizing for remarks.
In 2014, Deen compared herself to Michael Sam in an interview with People:
"I feel like 'embattled' or 'disgraced' will always follow my name. It's like that black football player who recently came out," she tells People, referring to NFL prospect Michael Sam. "He said, 'I just want to be known as a football player. I don't want to be known as a gay football player.' I know exactly what he's saying."