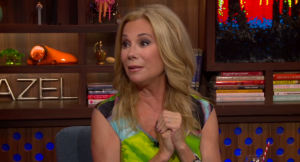 Sitting down with Andy Cohen in the Watch What Happens Live! clubhouse earlier this week, Kathie Lee Gifford opened up about having to get used to her friend Caitlyn Jenner's transition. Gifford, who is godmother to Kylie and Kendall Jenner, admitted that Caitlyn's coming out as trans caught her completely by surprise.
"I don't have gaydar, so I'm certainly not going to have transgenderdar," Gifford joked.
Giffored added that she has yet to actually meet "Caitlyn" but is looking forward to knowing her.
"It's bizarre…It's a lot for people to digest And I think they're all trying really hard to. And they're trying to be loving," said Gifford. "Bruce was one of the most lovable adorable sweetest guys in the world. That is all still there in Caitlyn. It's just, you've got to – lets be honest – you've got to come to grips with it somehow."