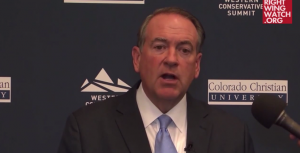 Speaking to demon obsessed Colorado state Representative Gordon Klingenschmitt at the Western Conservative Summit shortly after the Supreme Court's marriage ruling last month, 2016 GOP presidential candidate Mike Huckabee was asked how Christians should react moving forward.
His response:
I think in all of our lives there comes moments where we have to decide do we obey God or do we obey a decision that we believe is unlawful. Martin Luther King  perhaps taught us best in our own lifetime….He was willing to suffer for his decisions. And I think that's what we have to accept is that we would be willing to follow our conscious. If we don't follow our conscience we don't have much of one.
You can expect to see more of Huckabee's unconscionable policy positions on display at the first GOP debate on August 6.
https://www.youtube.com/watch?t=0&v=xJU-HFupDF8