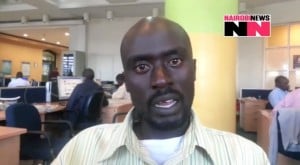 A planned rally against homosexuality that was to coincide with President Obama's trip to Kenya and include 5,000 naked men and women has been canceled.
The plan was reportedly abandoned after Republican Liberty Party leader (and protest organizer) Vincent Kidala [pictured] received a call from the government expressing concern.
"The caller said President Uhuru Kenyatta is not planning to discuss gay rights with US president Barack Obama and that he is against gay rights," he told the star on phone.
Kidala claimed the national security committee also cautioned against the protest in another phone call.
"The unidentified caller said protesting would be like pushing for a terror attack. He said they have terror alerts and would not want to take chances," he said.
Kidala said the protesters will be on stand by in case Obama talks about gay rights during his three-day visit for the 6th Global.
The Republican Liberty Party's reasoning behind the nudity was to help Obama "understand" the difference between men and women.