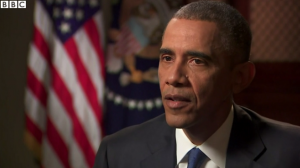 In an interview with the BBC ahead of his planned trip to Kenya and Ethiopia on Thursday, President Obama acknowledged that his vocal support for LGBT rights often puts him at odds with leaders in Africa.
Said Obama:
I've had this experience before when we've visited Senegal in my last trip to Africa. I think that the president there President Sall, is doing a wonderful job in moving the country forward – a strong democrat. But in a press conference, I was very blunt about my belief that everybody deserves fair treatment, equal treatment in the eyes of the law and the state.
And that includes gays, lesbians, transgender persons. I am not a fan of discrimination and bullying of anybody on the basis of race, on the basis of religion, on the basis of sexual orientation or gender. And I think that this is actually part and parcel of the agenda that's also going to be front and centre, and that is how are we treating women and girls.
And as somebody who has family in Kenya and knows the history of how the country so often is held back because women and girls are not treated fairly, I think those same values apply when it comes to different sexual orientations.
The AP adds:
A number of Kenyan politicians and religious leaders have warned Obama that any overtures on gay rights would not be welcomed in Kenya, where gay sex is punishable by up to 14 years in prison.
Yesterday we reported that a planned rally against homosexuality that was to coincide with Obama's trip to Kenya and include 5,000 naked men and women had been canceled after organizers were told President Uhuru Kenyatta would not be planning to discuss gay rights with Obama.