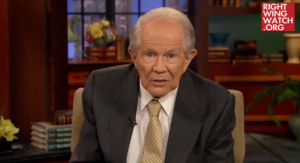 It's always sad seeing people write in to the 700 Club asking Pat Robertson for advice, especially when it involves those struggling with questions about sexuality. Robertson, after all, is the crackpot evangelical who things God will literally destroy America over same-sex marriage.
Asked today by one viewer whether God can "take away this same-sex attraction," Robertson responded in the affirmative:
"It is a miracle but God can do it. It is a tendency in your life."
God Almighty, however, is going to need some help on your end of things too though.
Said Robertson:
"Somebody was asking me for counseling the other day and said, 'I've got this son and he was effeminate from the time he was young and now he says he's gay.' And I said to her, 'Does he want to be a girl?' And she said 'no,' and I said, 'Well, if he doesn't want to be a girl, basically he wants to be a man, and if he wants to be a man, there's no reason that he can't start acting like one.' God can take care of this."