Despite the fact that anti-gay religious organizations can continue to discriminate under the Boy Scouts of America's new policy permitting openly gay adults to serve as leaders, the LDS Church is still not pleased with this half-step towards equality and is threatening to create its own alternative scouting group.
The Salt Lake Tribune reports: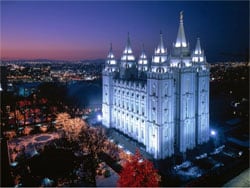 LDS Church spokesman Eric Hawkins confirmed Tuesday that the 15 million-member Church of Jesus Christ of Latter-day Saints is "considering creating its own international program for boys, separate from the Boy Scouts of America."
That could have dire financial consequences for BSA. The LDS Church is far and away the nation's largest Scouting sponsor, serving 437,160 boys in 37,933 troops.
In 2013, more than a third (37 percent) of troops were LDS sponsored, accounting for 18 percent of the BSA's 2.4 million total membership (Mormon troops, while more numerous, tend to be smaller in size).
"The Church has always welcomed all boys to its Scouting units regardless of sexual orientation," said the LDS Church in a statement. "However, the admission of openly gay leaders is inconsistent with the doctrines of the Church and what have traditionally been the values of the Boy Scouts of America."