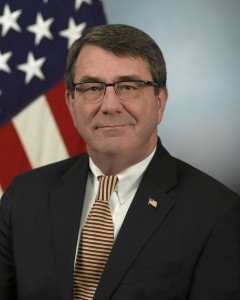 On Monday the Pentagon will begin to dismantle its ban on transgender service, according to a new report.
Earlier this month we learned that transgender individuals could not be dismissed unless the Pentagon's acting undersecretary for personnel, Brad Carson, signed off on the discharge. Many observers noted that this move was similar to one taken by the Pentagon in the lead-up to the repeal of Don't Ask, Don't Tell.
On Tuesday, Defense Secretary Ash Carter sent a memo to top military brass and civilians formally outlining his plan that would protect transgender troops from being discharged and directs officials to develop a plan within six months to incorporate those troops into the ranks.
How transgender troops will be housed, what uniforms they'll be permitted to wear and what medical treatments they'll be entitled to will be among the key issues for the Pentagon to resolve, said the official, who spoke on condition of anonymity to discuss details of the discussions.
"The working group will start with the assumption that transgender persons can serve openly without adverse impact on military effectiveness and readiness unless and except where objective, practical impediments are identified, and shall present its recommendations to me within 180 days," Carter wrote in his memo.
Medical treatment, particularly as it pertains to hormone therapy and transitioning, appears to be a major sticking point that officials will need to work through:
Medical benefits will likely be one of the most vexing issues for repealing the ban on transgender troops, the official said. For instance, will a solider be allowed to deploy to a forward operating base in a war zone while he or she is undergoing hormone therapy?