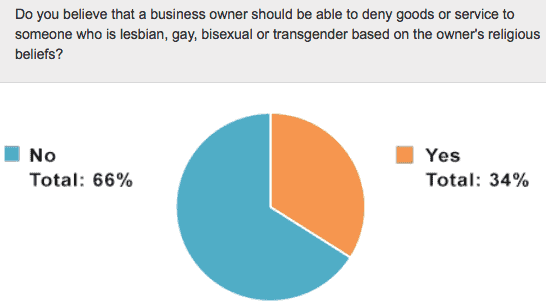 As large corporations have come out against anti-LGBT "religious freedom" legislation in numerous states, some anti-gay activists have argued those employers don't represent the majority of business owners.
However, a new national poll of small business owners suggests they do.
The poll found 66 percent of small business owners believe they shouldn't be allowed to deny goods and services to LGBT people based on religious beliefs. That figure includes 55 percent of Republican and 62 percent of Christian small business owners. However, the overall majority dropped to 59 percent if those goods and services are related to a same-sex wedding.
The Internet poll of 500 small business owners was conducted in April, shortly after Indiana passed its anti-LGBT Religious Freedom Restoration Act. And 59 percent of respondents said they oppose such legislation.
The poll — commissioned by the Small Business Majority, the Center for American Progress and the American Union Fund — also found an overwhelming majority of small business owners support legislation protecting LGBT people from discrimination in both employment (81 percent) and public accommodations (80 percent).
From a news release:
"The topic of religious freedom and how it relates to business practices has been front and center in the media. And once again, small businesses are in the middle of the debate," said John Arensmeyer, Founder & CEO of Small Business Majority. "As these results make clear, our nation's biggest job creators support policies that are fair and inclusive to all customers and employees."

"The results of this poll reinforce that business owners see little conflict between expressing their religious beliefs and supporting LGBT-inclusive non-discrimination protections," said Dr. Laura E. Durso, director of the LGBT Research and Communications Project at the Center for American Progress. "Treating LGBT workers and customers fairly is not only morally right, but also good for business, which is why its past time for Congress to pass a comprehensive LGBT non-discrimination act."

"It's not surprising that a majority of small business owners are opposed to any law that would allow discrimination against customers based solely on the fact that they are gay or transgender," said Tyler Deaton, Senior Advisor at American Unity Fund. "The notion they would single out and deny services to a certain group of customers is at odds with operating a successful business. Keeping the marketplace free from discrimination fosters job creation and a healthy economy.  Any effort to demean any customer is just bad business."
View the full poll results here.