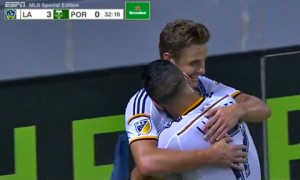 LA Galaxy star Robbie Rogers is again speaking out against FIFA's decision to host the 2018 and 2022 World Cups in Russia and Qatar respectively – two countries with very poor records on LGBT rights.
Speaking to the Daily Mirror, Rogers said that while he wouldn't consider boycotting the World Cups in protest, he has something else in mind to help raise awareness (and possibly a few eyebrows).
"I think what I've learned from my experience of coming out and being present in the locker room is that by being there it is more of a statement than boycotting or something like that.

"So if I were to go to Russia or Qatar then I would do it and I would be extremely flamboyant about it."
Rogers was recently featured in Major League Soccer's 'Don't Cross the Line' PSA promoting unity, respect, equality, and acceptance in the soccer community.
Check out the PSA below:
https://www.youtube.com/watch?v=7Xw7yfY2mhc