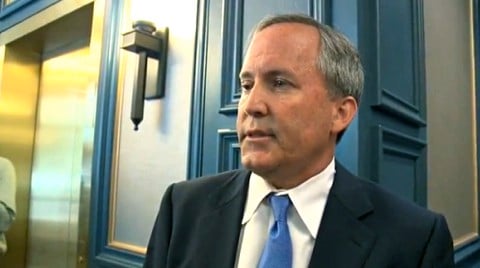 Things just keep getting worse for anti-gay Republican Texas Attorney General Ken Paxton.
On Thursday, we told you how Paxton is facing possible first-degree felony charges, which carry a penalty of up to life in prison, for securities fraud.
Now, he's also facing an ethics complaint filed with the State Bar of Texas over his statement issued this week encouraging county clerks to ignore the U.S. Supreme Court's ruling in favor of same-sex marriage and deny licenses to gay couples.
The Dallas Morning News reports that the complaint was filed by openly gay former state Rep. Glen Maxey (below right):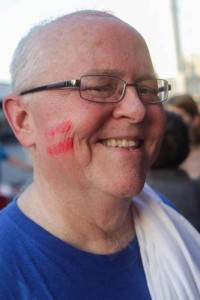 Says Maxey in his prepared statement, "It's irresponsible for an elected official — and a lawyer — to tell other elected officials to break the law. He's misleading county and state officials based on a false premise that they can discriminate against same-sex couples. This past Friday, the Supreme Court was clear with their decision to let same-sex couple marry. Paxton took an oath to defend and protect the constitution, he must comply with the court's decision. Paxton is no stranger to shady business. This just gives us another reason to question his legitimacy as a Texas Attorney General, lawyer, and trustworthy individual."
Maxey filed the complaint after a group of 150 attorneys from across the state sent a letter to Paxton threatening to file their own. The Texas Tribune reports:
"It seems to us that your edict to encourage Texas clerks to violate a direct ruling of the United States Supreme Court violates" the State Bar's rules requiring attorneys to uphold the U.S. Constitution, the letter states. …
If Paxton doesn't change his direction to county clerks in the coming weeks, Steve Fischer, a former director of the State Bar of Texas, said he plans to file a complaint he anticipates hundreds of other lawyers will sign onto.
"I think he could very easily be disbarred," said Fischer, who wrote the letter sent to Paxton's office Friday. "He violated his oath to specifically uphold the United States Constitution."
In other Texas news, GOP state Rep. Cecil Bell Jr., who led the charge against same-sex marriage in the recent legislative session, may be planning to run for speaker of the House.
Read Maxey's complaint and the letter from the attorneys below.
Glen Maxey Complaint Against Ken Paxton