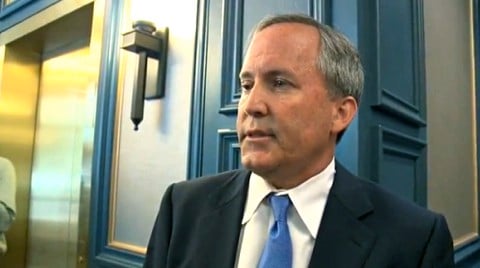 The other day, we told you how Texas Attorney General Ken Paxton encouraged county clerks to ignore the U.S. Supreme Court's ruling in favor of same-sex marriage if they have religious objections.
Now, it appears as though the notion of picking and choosing which laws to follow may not be a new concept for Paxton, who could face up to life in prison for securities fraud.
Paxton, who is rabidly anti-gay, admitted to violating the State Securities Act last year — and got a $1,000 slap on the wrist. However, a subsequent investigation by the Texas Rangers has concluded that the violations may be far more serious. And next week, a special prosecutor will ask a grand jury to charge Paxton with a first-degree felony.
WFAA-TV reports:
Special prosecutor Kent Schaffer told News 8 Wednesday afternoon that the Texas Rangers uncovered new evidence during the investigation that led to the securities fraud allegations against the sitting attorney general.
"The Rangers went out to investigate one thing, and they came back with information on something else," Schaffer told News 8. "It's turned into something different than when they started."
Schaffer, a Houston criminal defense attorney, said the securities fraud allegations involve amounts well in excess of $100,000. He declined to comment specifics of the fraud allegations.
Paxton, meanwhile, has chalked the whole thing up to "an administrative error." From The Dallas Morning News:
Last month, when The Dallas Morning News asked a Paxton spokesman about the prospect of the attorney general being indicted, he was unmoved, saying "at least three entities have thoroughly reviewed these matters and each chose not to proceed."
"We will continue defending the rule of law and remain focused on protecting Texans against Washington's overreach."
Today Paxton's camp released a statement on the investigation:
There appears to be a politically motivated effort to ruin the career of a longtime public servant. The Texas State Securities Board, and the Travis and Dallas District Attorneys offices all reviewed this matter, yet not one of them pursued a criminal action. Neither of the special prosecutors have significant prosecutorial experience. It appears that they have prosecuted only one case between them.
Not only do they appear inexperienced as prosecutors, they are from Houston. Meanwhile, thousands of experienced prosecutors and formers prosecutors are in the Dallas area.
From the outset their intention appears to have been to try this case in the media, not the courtroom. Texans deserve better, we deserve cases tried in courthouses, not the press.
These attacks on Ken Paxton appear to have become a political hit-job in the media, perhaps having the effect of inappropriately influencing the grand jury.
In his six months since taking office, Paxton has developed a reputation as a world-class homophobe.
In addition to encouraging county clerks not to issue marriage licenses to same-sex couples, Paxton recently filed a lawsuit seeking to block gay workers from taking unpaid leave to care for their sick spouses. And in February, after a lesbian couple wed in Austin, Paxton sought to void their marriage, even though one of them has ovarian cancer.
Paxton also appeared at an anti-gay hate rally alongside Alabama Chief Justice Roy Moore, and blamed the demise of anti-LGBT legislation on a small group of hateful gay activists and their corporate cronies.
Paxton joins former Gov. Rick Perry among top Texas officials who've faced felony charges in recent years.
Who knows, maybe they'll be cellmates.
Watch WFAA's report below: