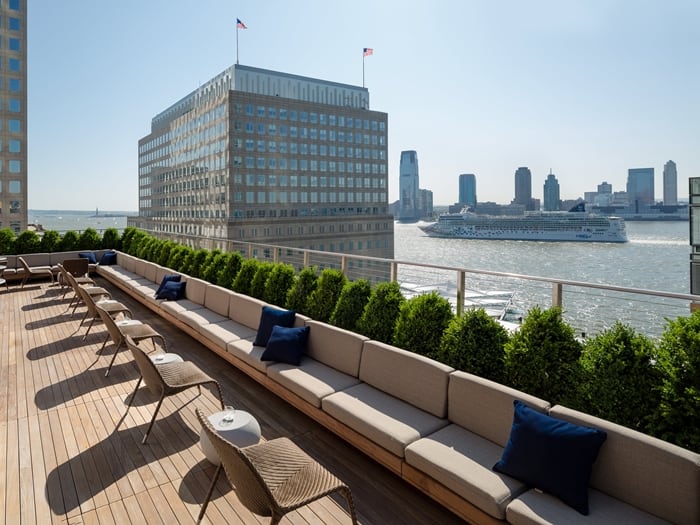 New York City is truly one of the world's most prominent destinations, and boasts a vibrant scene bustling with busy theaters, art museums and galleries, decadent restaurants, shopping, parks and other distinct experiences that visitors and locals alike may revel in all hours of the night. Entertainment aside, The City is also known for its place in history, including being the birthplace of the modern gay rights movement – making it a global center for the LGBT community. With summer officially in full swing it is the perfect time to take in all the sights and sounds that New York City has to offer, and there is no better place to call "home base" than the contemporary Conrad New York.
Located downtown in lively Battery Park City, the Conrad New York is flanked by lower Manhattan's financial district, as well as the trendy and fashionable Tribeca and SoHo neighborhoods. It is also a quick walk from several subway stations, and is easily accessible to the rest of the city.
With endless possibilities for exploration and inspiration, we've pieced together the perfect weekend itinerary. Discover our tips on dining, nightlife, and everything else there is to uncover in The Big Apple below:
EAT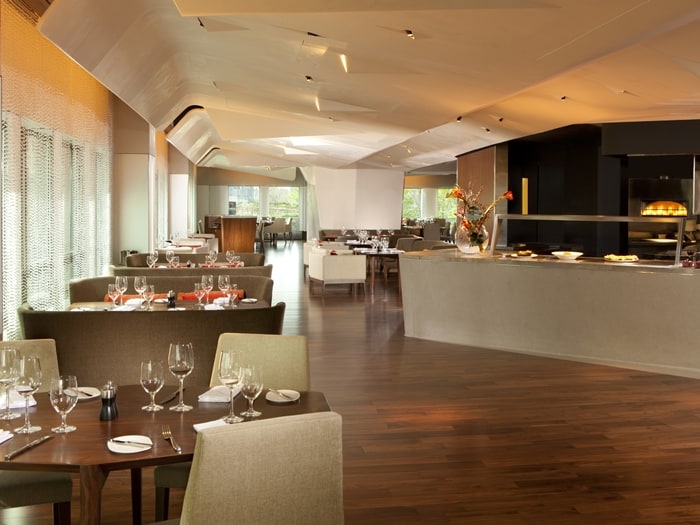 Begin your experience at Conrad's own ATRIO Wine Bar and Restaurant, which offers Mediterranean fare including inventive flatbreads, roasted seasonal vegetables, unique meatballs, salads, artisanal cheeses and cured meats. There is plenty here to whet your palette. If you're in the mood for a midday cocktail, head on up to the hotel's Loopy Doopy Rooftop Bar (pictured at top) and take in the stunning views of lower Manhattan and the Statue of Liberty while enjoying the bar's signature "Prosecco and Icepop."
For a more laid-back scene, head to the West Village's Riviera Cafe. People-watch on the outdoor patio and be sure to try their salmon burrito. Fast food aficionados will want to swing through Greenwich Village's Sticky's Finger Joint, The City's first variety gourmet chicken finger restaurant. Chicken poppers and sandwiches reach new heights here, and are accented by a bevy of house-made sauces. For a more polished experience, head to Gramercy Park and visit Novitá. Sensible and delicious Italian dining has been served here since 1994, and favorites like the funghi misti, the spigola con carciofi, and the house biscotti are not to be missed.
GO OUT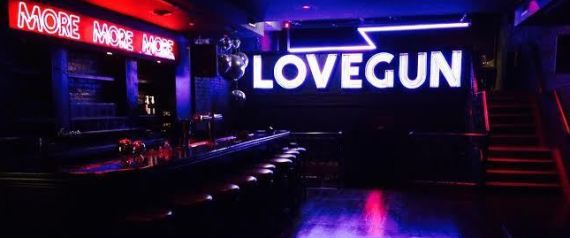 New York City's nightlife is one that's hard to beat. There are many bars, lounges and clubs where you can enjoy craft beers and ingenious cocktails all while listening to energetic beats spun by the finest DJs. In the East Village, Eastern Bloc channels cold war-era communist chic with Soviet-style posters and murals. For a more upright night out, travel to nearby Nowhere Bar, where theme nights draw a fun mixed crowd.
Heading west to Chelsea, G Lounge serves up a modern, bright and unpretentious atmosphere highlighted with vibrant dancers and pulsating music. GYM Bar is perfect for sports fans and offers many screens to watch the big game, a pool table, and a basement lounge perfect for when the bar gets busy. Barracuda is a Chelsea staple with friendly bartenders, drag shows, and an all-around casual vibe.
For the more adventurous, The Eagle is known for its beer blasts and summertime rooftop barbecues. On Christopher Street, visit local favorite Rockbar. With a queer "rock and roll" theme, the bar offers guests a busy calendar of events filled with live bands.
Once you've made it to the West Village, make a pilgrimage to the historic Stonewall Inn –the epicenter of the 1969 Stonewall riots. Then head to Julius, the city's oldest gay bar, to toast to how far we've come. If you're looking to "rouge your knees and roll your stockings down," you'll enjoy the musically-oriented crowd at Marie's Crisis Cafe.
Cubby Hole, though a fully LGBT bar, is more popular with its lesbian clientele. Draught beers and fun eclectic decor make this spot memorable and unconventional. Atlas Social Club, on the other hand, piques male interest. Modeled on an old athletic club, bartenders serve strong drinks at this spot in the heart of Hell's Kitchen.
Across the bridge in Williamsburg, Brooklyn, is the stylish new multi-level gay club, LoveGun. The club bills itself as a local haunt on weekdays and a destination spot on weekends.
EXPLORE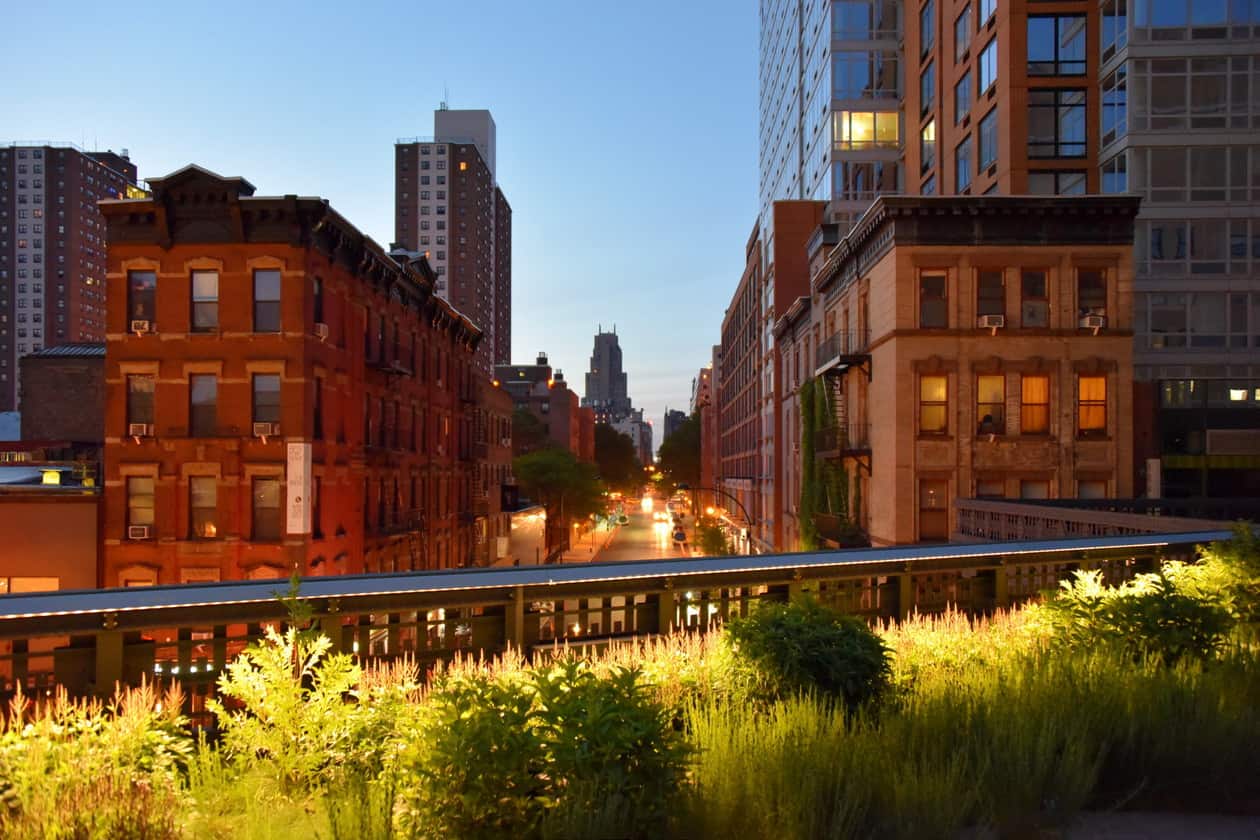 Art lovers will appreciate The Leslie-Lohman Museum of Gay and Lesbian Art. With over 24,000 works of art, the collection of historically significant and often racy art exploring the LGBTQ experience is worthy of praise. The Hell's Kitchen Flea Market, located in New York's latest "gayborhood," offers all sorts of eclectic things you could hope to discover: from antiques and collectibles, vintage clothing, furniture, to jewelry on sale. For more current looks, head to Dover Street Market. This little known mini-department store presents a wide range of items from both local and world-renowned designers.
Broaden your cinematic horizons at Manhattan's Film Forum. Innovative new works and classic films come to life at this mini movie-plex that has become popular with cinephiles in the city. Word of caution: talk or text at your own risk.
Get outdoors and enjoy the scenic views along the Hudson River Greenway bike path that stretches from Battery Park to Dyckman Street. Then check out the famous High Line, the elevated section of abandoned railroad tracks that have been transformed into an urban park. It has been a fan favorite since its inception in 2009, and extended to W 34th Street just last year.