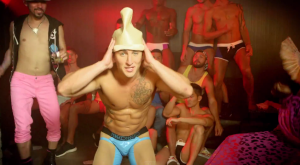 Impulse Group Los Angeles, the founding chapter of the international group "dedicated to promoting healthier sexual lifestyles among gay men," is out with a fabulous new safer sex PSA stuffed with hot guys, a catchy beat, and a great message.
From the video's description:
There is nothing funny about the risks of HIV, but together we can educate & protect ourselves from STI's. The video reinforces the mission of Impulse Los Angeles by promoting an open and direct discussion of safe sex practices as well as overall sexual health….Collaborating with the voices of various LGBT influencers like, Manila Luzon, Pandora Boxx, Jai Rodriguez, Pablo Hernandez & Impulse LA, we strive to promote the message of safer sex practices.