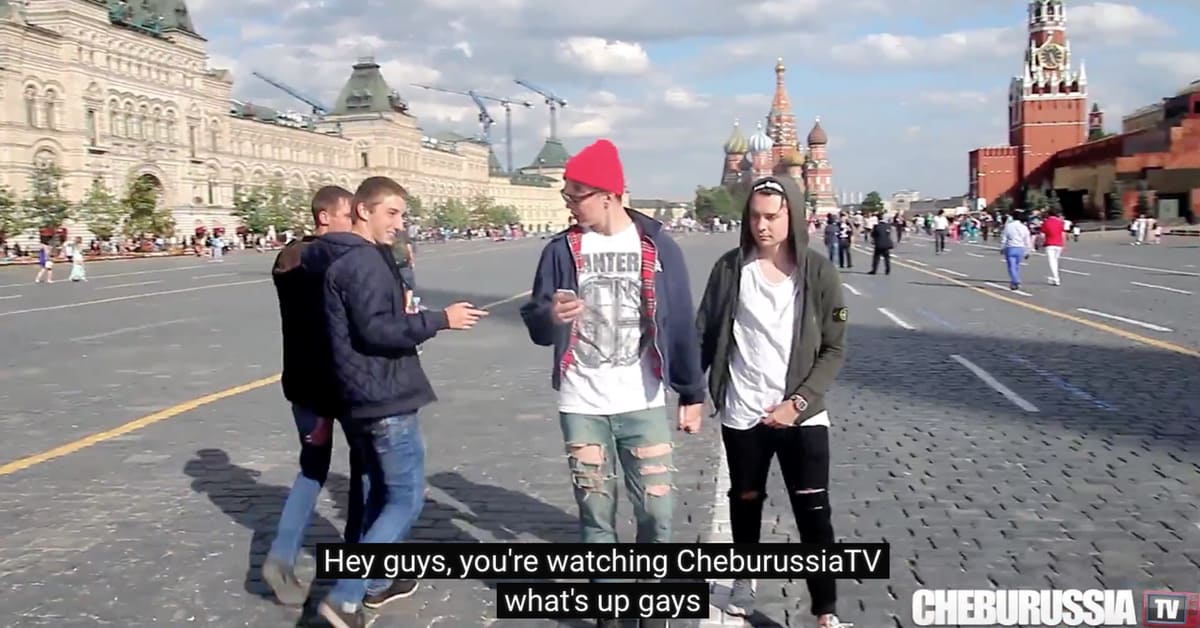 What happens when two men hold hands and walk through the streets of a crowded city? How do the people react? And what if the city happens to be Moscow, Russia, where gay people have been demonized and laws against 'anti-gay' propaganda have pushed advocacy groups into the closet and LGBT organizations underground?
We've seen the 'walking through the street reaction video' in many forms. In January, you may recall, BBC radio hosts Iain Lee and Justin Dealey performed the experiment after hearing about a 23-year-old who had suffered homophobic abuse on the streets of Luton, just north of London.
Cheburussia, a stunt YouTube channel self-described as "a project based solely on our enthusiasm and only positive intentions" which says its purpose is "to give people positive emotions and provide motivation to commit new crazy feats" decided to put a same-sex couple on the streets of Moscow to see how Russians would react.
The results run the gamut, from not even noticing to verbal abuse, to physical assault.
Would you have the nerve to take on this experiment in Russia?
https://www.youtube.com/watch?v=wgm3lb9JUU0
The video comes as President Vladimir Putin's United Russia party  recently unveiled a "straight pride" flag as a reaction to the proliferation of marriage equality laws worldwide and the recent SCOTUS ruling.
Russian anti-gay lawmaker Vitaly Milonov also recently announced that he wanted Facebook banned because of its recent rainbow profile picture filtering mechanism celebrating LGBT Pride.