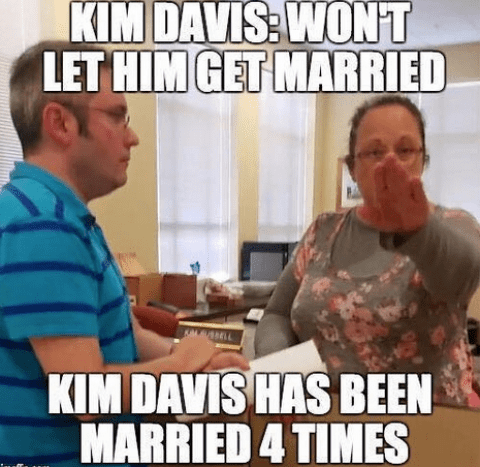 Anti-gay Rowan County, Kentucky clerk Kim Davis has filed a lawsuit against the state's governor, Steve Beshear, alleging that by forcing her to obey the law of the land and grant marriage licenses to same-sex couples he violated her so-called "religious freedom."
Davis famously denied and denigrated a gay couple who went to the Rowan County courthouse seeking a marriage license after the Supreme Court struck down all gay marriage bans as unconstitutional.
"The Commonwealth of Kentucky, acting through Governor Beshear, has deprived Davis of her religious-conscience rights guaranteed by the United States and Kentucky constitutions and laws, by insisting that Davis issue marriage licenses to same-sex couples contrary to her conscience, based on her sincerely held religious beliefs," Davis' lawsuit says.
Davis seeks protection from "Kentucky's marriage policies" given her rights under the state's religious-freedom law, passed in 2013 over Beshear's veto. The law protects "sincerely held religious beliefs" from infringement unless there is "a compelling governmental interest."
She also asks that Beshear be forced to pay any damages she faces from the lawsuits filed against her by her constituents.
Just last week Davis likened her anti-gay views to those of anti-war conscientious objectors.