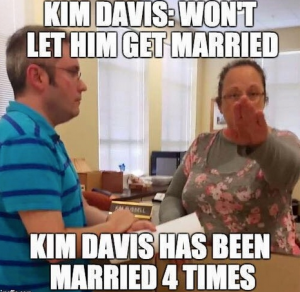 The lawyers for Kim Davis, the Kentucky county clerk being sued by the ACLU for refusing to issue licenses to gay couples, have an eye-rolling new justification for Davis' refusal to do her job.
The Courier-Journal reports:
Like a noncombatant who cannot shoulder a rifle, a county clerk who cannot issue" same-sex licenses "can still faithfully and devotedly serve this country, and their county," lawyers for Kim Davis argued in a pleading filed Thursday in U.S. District Court.
Asking Judge David Bunning to deny an injunction forcing Davis to begin issuing licenses again, attorneys Roger Gannam and Jonathan Christman from the Orlando-based Liberty Counsel note that Kentucky law allows county clerks an exemption from issuing fishing and hunting licenses.
"If Kentucky is able to accommodate personal beliefs and conscientious objection regarding something that is (to some) as trivial as fishing and hunting, surely Kentucky can and must provide similar accommodation for deeply held beliefs about the fundamental nature of marriage," they said in their pleading.
Davis is being repped by the anti-gay Christian legal group Liberty Counsel. Earlier this month, a bill was introduced in the Kentucky House of Representatives allowing county clerks to refuse to issue marriage licenses to same-sex couples on religious grounds.