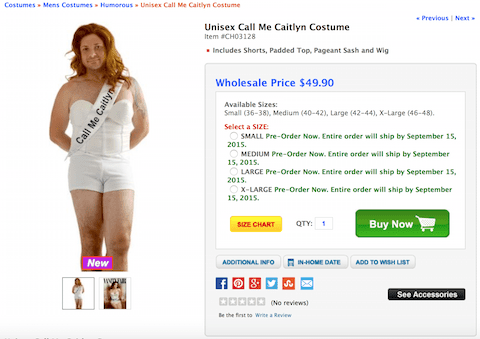 Every year a new, tacky Halloween costume that is sure to irk customers debuts and this year is certainly no exception. This year's entry for the most offensive outfit is a 'Call Me Caitlyn' costume that makes reference to Caitlyn Jenner's now iconic cover of Vanity Fair reports Mashable.
While numerous celebrity Halloween costumes pay homage or playfully spoof the person they're modeled off of, the Jenner costume adds insult to injury as the site it's being sold through singularly features a male model wearing the costume on the order page and labels the costume as "humorous." The outfit's description, specifically the last sentence, only adds fuel to the flames of those upset with it:
"Everyone has seen Vanity Fair's popular July cover, so you'll be easily recognized this Halloween when you dress up in the Call Me Caitlyn Unisex Adult Costume. With the items in the set, you'll be able to emulate her picture perfect look for the upcoming party this year. Included are a white padded top and matching shorts as well as a brunette wig so that you can dress as the softer side of the popular Olympian. A sash that says "call me Caitlyn" also comes with the set so that there will be no mistaking who you are dressed as this Halloween. You probably won't break any Twitter records when you wear this outfit like Caitlyn did when she first made her account, but you'll be sure to get a few laughs out of your friends and the other guests at the get together."
While Spirit Halloween, the franchise costume pop-up shop, defended the costume calling Jenner a "superhero," a change.org petition calling for Spirit to recall the costume begs to differ:
"To make a costume out of a marginalized identity reduces that person and community to a stereotype for privileged people to abuse…In this case, if you follow through with production of a Caitlyn Jenner costume, cisgender people will purchase it to make fun of her and our community."
Regardless of whether the costume perturbs Jenner or not, the trans icon is already facing difficult months ahead as Los Angeles Police are moving forward with the investigation into Jenner's February car crash that left one woman dead; Jenner is expected to face one year in county jail if convicted on vehicular manslaughter charges, but ultimately the district attorney's office will decide exactly what charges to levy against Jenner.