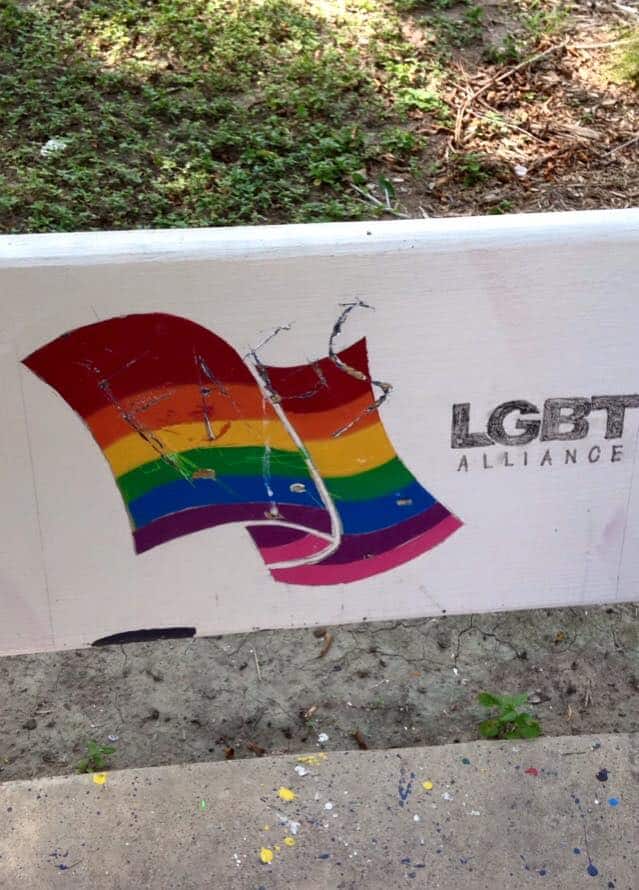 An LGBT group at one Texas university had the perfect response after someone carved a gay slur in a bench it sponsors on campus.
Someone carved "fags" into the bench sponsored by the LGBT Alliance at the University of Texas Rio Grande Valley, previously known as the University of Texas Pan American, in Edinburg.
KGBT-TV reports:
Police received a report on Thursday morning about the damaged property, which they believe occurred after Wednesday, Aug. 12.
"UTPA takes the safety of all student very seriously," the university said in a statement released by a public affairs representative.
"In compliance with the timely notice provisions of the Clery Act, students faculty and staff have been notified of this incident," the statement read.
The LGBT Alliance had this to say Friday about the incident on its Facebook page:
"Yesterday we were informed that our organizations bench by the University Chapel was vandalized with hate speech. We want to thank the University for their prompt response in taking it down. To many of us, this is just dirt off of our shoulders. It's a sad reality that hate and ignorance are still expected occurrences in our lives. But to the students who are struggling with their identity, the students who are working up the courage to walk through our meeting doors, the students who are afraid of the consequences of living true to themselves, this act of hate means so much more. So because of that, we will continue to advocate, to meet, and to educate on campus and around the RGV. And we ask that UTRGV ensures that diversity is not only tolerated, but promoted and celebrated."