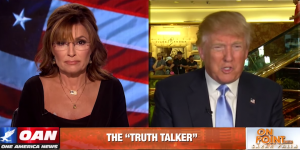 Sarah Palin interviewed Donald Trump for the conservative One America News last night and the results were mostly just a bunch of hot air.
Introducing Trump as a "fighter" and "avant garde," Palin proceeded to lob a series of easy questions about the economy and taxes to the billionaire blowhard. She also brought up the media's "gotcha questions" thrown Trump's way recently, pointing to the recent Bloomberg interview in which the "truth talker" was asked (and declined to answer) what his favorite Bible verse was.
All in all, the exchange was light on fireworks but well worth a watch, if only to get a better understanding of why Trump is resonating with the GOP electorate.