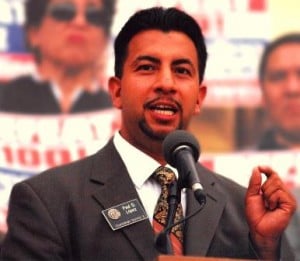 A Denver city councilman who expressed concerns with Chick-Fil-A's ties to anti-gay groups and voted to delay the approval of the restaurant's opening in the Denver International Airport is now facing homophobic backlash.
https://www.facebook.com/permalink.php?story_fbid=10153741791925827&id=98932185826
Think Progress reports:
López stressed that the contract hadn't actually been voted on, and that in reality, he and his colleagues mainly delayed the contract vote because of the company's six-day work week, which is not currently allowed under airport requirements. But López also readily admitted that he wanted to raise the issue of the company's stance against marriage equality, due to the high number of LGBT taxpayers in Denver.
"It is [Chick-fil-A's] First Amendment right to say whatever they want to say [about same-sex marriage]. And we're not going to deny a contract based on that," he said. "But our criticism and discussion is a First Amendment right, too. When there are headlines saying we're denying or persecuting a company because it's Christian, that's false."
"They want to do business with a public entity that includes members of the LGBT community," he continued. "And although it does bother me that this billion dollar corporation has actively and financially opposed the community and undermined the community's equal rights, that's not the basis for questioning the [contract] itself."
Lopez added that he's since heard the airport will grant a waiver on its usual policy requiring businesses to be open every day of the week and that he predicts the contract will be approved soon.