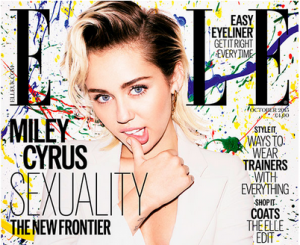 After months of hinting at her hetero-flexibility, Miley Cyrus is finally putting a label on her sexuality.
"I'm very open about it – I'm pansexual," said Cyrus in an interview with Elle UK. "But I'm not in a relationship. I'm 22, I'm going on dates, but I change my style every two weeks, let alone who I'm with."
Last month, Cyrus was linked with Victoria's Secret Angel Stella Maxwell.
In a June interview with Paper magazine, Cyrus revealed that she first came out to her mother when she was 14:
"I remember telling her I admire women in a different way. And she asked me what that meant. And I said, I love them. I love them like I love boys," she says. "And it was so hard for her to understand. She didn't want me to be judged and she didn't want me to go to hell. But she believes in me more than she believes in any god. I just asked for her to accept me. And she has."