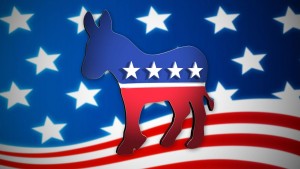 The Democratic National Committee (DNC) has unanimously approved a resolution backing the Supreme Court's Obergefell ruling legalizing marriage equality nationwide.
The Washington Blade reports:
"Same-sex marriage is a constitutionally guaranteed right nationwide and can no longer be denied by state laws," reads the resolution. "The ruling now recognizes same-sex marriages all across this nation and these families will now be protected under the law from the discrimination and mistreatment to which they have long been subjected."
The resolution also describes the ruling in the Obergefell case as "an important victory for the LGBT community" and "a monumental step forward for our nation."
Last week, the Republican National Committee went in the other direction on LGBT rights with its approval of a resolution supporting so-called "religious freedom" proposals that legalize anti-LGBT discrimination.