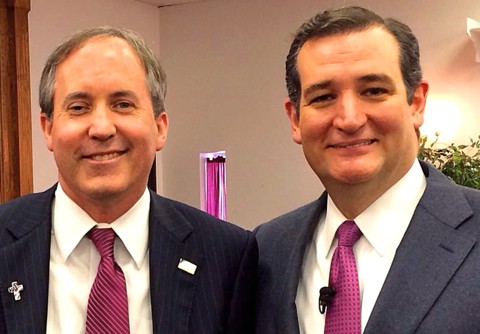 Anti-LGBT activists are rallying behind Texas Attorney General Ken Paxton (shown with Sen. Ted Cruz) as he faces three felony charges related to alleged securities fraud.
At Paxton's arraignment Thursday, where he pleaded not guilty, those who turned out to support him at a Fort Worth courthouse included Cathie Adams, president of the Texas Eagle Forum, and Julie McCarty, president of the Northeast Tarrant Tea Party.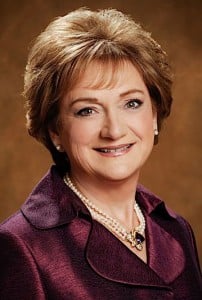 Adams (right), a longtime anti-LGBT activist, recently said same-sex marriage would lead to the end of America if the state Legislature didn't act to undermine the Supreme Court's ruling in Obergefell v. Hodges. And earlier this month, McCarty railed against a proposal to protect LGBT students against bullying in one Texas school district.
From The Texas Tribune's report on Thursday's hearing:
On Thursday, about a dozen conservative activists including NE Tarrant Tea Party President Julie McCarty and Texas Eagle Forum President Cathie Adams, as well as state Rep. Bill Zedler, R-Arlington, attended the hearing to support Paxton.
"There are thousands of people around this state who not only voted for Ken Paxton but are today down on their knees praying for him because that is the kind of caliber of man he is," said Adams, who sat next to Paxton's wife in the courtroom's front row.
One recent poll showed 62 percent of Texas Republicans believe Paxton should resign, including 53 percent of self-identified tea party voters. But the hard-core bigots who comprise Paxton's core base obviously disagree.
Meanwhile, as we mentioned last week, Paxton has retained an openly gay attorney to help represent him. During Thursday's hearing, Paxton's lead defense counsel, Joe Kendall, withdrew himself from the case, apparently leaving him with no attorney. But moments later Pete Schulte, a gay Dallas attorney who announced he was joining Paxton's legal team last week, wrote on Twitter: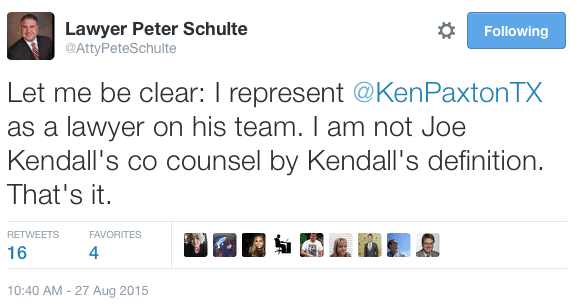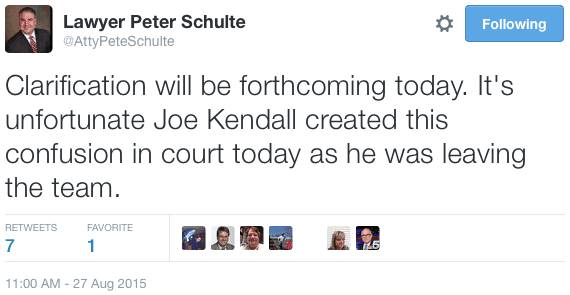 Schulte also later issued a statement on behalf of Paxton, according to The Houston Chronicle:
In a statement issued by Schulte later Thursday, Paxton said, "I am innocent of these charges. It is a travesty that some would attempt to hijack our system of justice to achieve political ends they could not accomplish at the ballot box. Regardless, I will continue to serve the people of Texas as Attorney General and continue to fight for the freedoms guaranteed under our Constitution."
Schulte has run unsuccessfully as a Democrat for both Texas House and Dallas County sheriff. He's also said he plans to run for sheriff again if out lesbian Dallas County Sheriff Lupe Valdez retires. But given Schulte's decision to take Paxton's case, it's safe to say his political career as a Democrat is over.
Watch a report on Paxton's arraignment below.