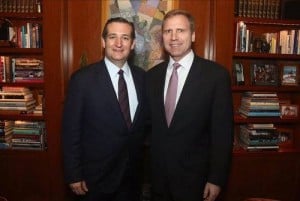 A Facebook group that led the efforts to boycott establishments owned by gay hoteliers Ian Reisner and Mati Wiederpass in the wake of a controversial "fireside chat" with Sen. Ted Cruz has announced it will be shutting down later this month.
Read the "Boycott Fire Island Pines Establishments & Out NYC Hotel" page's final statement in part:
Mr. Reisner and Mr. Weiderpass chose to be LGBTQ community business owners. They chose to build a 'for-profit' brand within the LGBTQ community. No one forced them into that arena. Being a part of a community comes with a level of responsibility to the community from which you profit. It means embracing the genuine responsibility to stand with us and not against us. A portion of the community will never step foot inside their establishments again. A portion of the community has shown up regardless. However, many of us believe this is one of those great teachable moments in our movement. We did not go from 25% nationwide public support of same-sex marriage to over 60% in just 15 years without hard work, education, and many teachable moments. We know there are many people who want to "grind" their businesses into the ground, as long as they stay involved. That is a complicated approach. There are other investors, employees, bartenders, waiters, DJ's, drag queens, and non-profit organizations (just to name a few), all of whom have no attachment to this issue but depend on these businesses for income. There are 500+ homeowners and 1,000+ summer shareholders who have a personal interest in the Fire Island Pines community. The list of complexities goes on and on. […]
We feel at this point in time that nothing further needs to be addressed as we have presented all the facts recently insofar as all the developments that have lead us here. The boycott, whether you were in support of it or against it, was a moment in our history to hold two gay men accountable for their actions. The rest now is up to each of you. It always has been. Personal choices are difficult, especially when they are not popular, but each of us must do what we feel is right for ourselves and the beliefs we hold strongly in our hearts.
While Marriage Equality is now a part of all 50 states, the hate and anger by the GOP continues and it is causing a domino effect in our country. Hate crimes are up and daily we see a stronger support for those who want to work against the rights we won. We have quoted in the past, "victory blindness," and we must not fall prey to it. There is much work to be done.
The group is set to close August 20.
Edge Media adds:
During the life of the boycott page, it gained the support of LGBT activist groups ACT UP and Queer Nation and even received an endorsement from noted gay author Armistead Maupin (who admitted he had never been to Fire Island). The page garnered over 11,000 likes – an inordinate amount considering that the seasonal population of Fire Island Pines is estimated between 2,500 and 3,000.
Early in the game, the group quickly came under fire for its original lack of transparency in leadership which lead to innuendos that the group was somehow a front being run by Jeff McGovern, a manager under one of the properties' previous owners Eric Von Kuersteiner who is rumored to have offered to buy Reisner's share in the properties for an undisclosed figure. This was categorically denied online.