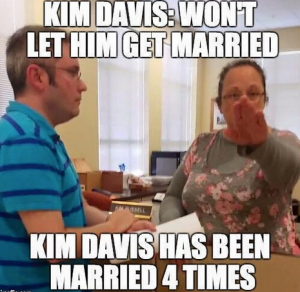 The Rowan County Attorney's Office has filed a charge of official misconduct against clerk Kim Davis for her repeated refusal to issue marriage licenses to same-sex couples despite a federal order.
The Morehead News reports County Attorney Cecil Watkins said the Rowan County government and his office had no other action against Davis.
"No authority exists for her removal or suspension from the office by Rowan County government," said Watkins. "Kentucky State Government is the only entity that can move to have Kim Davis removed as Rowan County Clerk."
The charge has been referred to the Attorney General's Office. The county attorney's office is prohibited from prosecuting Davis because they are involved in current litigation with Davis.
The federal judge's stay on his order expires on Monday. Davis has asked the U.S. Supreme Court for a stay on the order while she continues her appeal.
In related news, fellow renegade clerk Casey Davis biked across the state to visit Davis on Friday and raise awareness for other clerks who are refusing to comply with the Supreme Court's Obergefell ruling.
WKYT reports: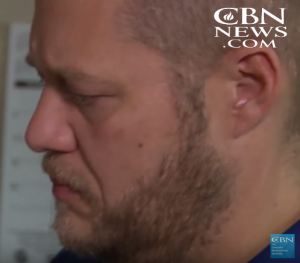 The two of them, who are not related, but say they are brother and sister in Christ, spent about 30 minutes inside the Rowan County Clerk's office.
"I don't hate these people. Kim doesn't hate these people. Kim is not trying to keep them from getting what they want," Casey Davis said. "I mean, I've ridden a bike across how many counties? They can drive in a car much easier today and go get that if that's what they want."
Watch a WKYT and CBN News report on the latest Davis drama below: