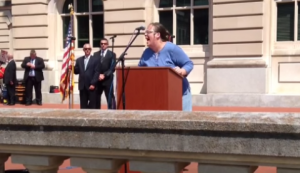 As expected, Rowan County clerk Kim Davis is attempting to get the highest court in the land to intervene in her anti-gay crusade.
In an emergency application filed today, Davis asked U.S. Supreme Court Justice Elena Kagan to issue a stay on a federal order calling on her to issue marriage licenses to same-sex couples.
The Sixth Circuit denied a similar motion from Davis earlier this week. The temporary hold on U.S. District Judge David Bunning's ruling in expected to expire on Monday at the latest.
From the SCOTUS filing:
"She holds an undisputed sincerely-held religious belief that marriage is a union between a man and a woman, only. Thus, in her belief, SSM is not, in fact, marriage. If a SSM license is issued with Davis' name, authorization, and approval, no one can unring that bell. That searing act of validation would forever echo in her conscience. And yet, the SSM Mandate demands that she either fall in line (her conscience be damned) or leave office (her livelihood and job for three-decades in the clerk's office be damned)."
Here's the full filing:
Courtesy of Equality Case Files
Want to stay up to date on all the Kim Davis drama? Click HERE and LIKE our page on Facebook. Select "get notifications" in pulldown menu to receive our headlines in your feed