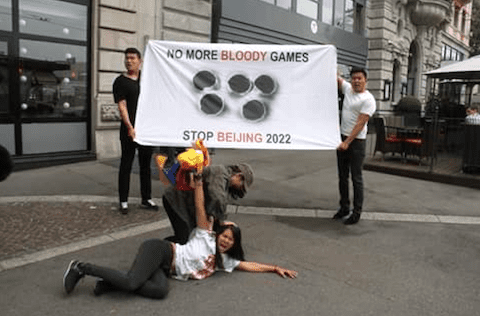 LGBT and human rights advocates have called the International Olympic Committee's attempt to amend it's Charter to include protections based on sexual orientation "fluff" as the committee continues to award hosting rights to countries with poor civil rights for LGBT people reports the Washington Blade.
Outsports.com co-founder Cyd Zeigler said the IOC's attempt to include Principle 6, which guarantees sexual orientation protections in host cities, essentially means nothing as the committee continues to accept bids and choose host cities with poor LGBT civil rights records:
"These policies are a bunch of fluff. What matters is the cities they choose to be the hosts and the discriminatory countries that are allowed to participate. The Olympics just selected a country not just with huge LGBT issues, but human rights violations that are massive…
"They almost picked a country that's even worse."
The city in question, Beijing, won hosting rights for the 2022 Winter Olympics in a narrow 44-40 vote margin, beating Almaty, Kazakhstan. Kazakhstan introduced a bill similar to Russia's banning the promotion of "gay propaganda" toward minors earlier this year; the measure was ultimately struck down but a lawmaker intends on reintroducing the measure.
Although a better choice than Kazakhstan, Beijing is known for its own numerous human rights violations, especially when they hosted the 2008 Summer Olympics where they dislocated thousands of residents to build Olympic venues including the now iconic Beijing National Stadium, also known as the "bird's nest."
Activists are outraged that the two cities were even allowed to submit hosting bids and the fact that both cities made it to the final round of voting. IOC spokesman Mark Adams assured that Principle 6 of the Olympic Charter will apply in the 2022 Winter Olympics in Beijing:
"The IOC is clear that sport is a human right and should be available to all regardless of race, sex or sexual orientation as stated in the Olympic Charter. The games themselves should be open to all, free of discrimination, and that applies to spectators, officials, media and, of course, athletes. This has been upheld at all editions of the Olympic games."
The IOC has expelled nations in the past from competing in the Olympics based on civil rights violations. The IOC expelled the African state of Rhodesia from the IOC on Aug. 23, 1972 for its racist policies however, the current IOC appears to not hold countries with anti-gay laws to the same standards.
1972: Africa – Rhodesia was expelled by the International Olympic Committee (IOC) for its racist policies. #history

— Today In History (@Yesterday_Today) August 23, 2015