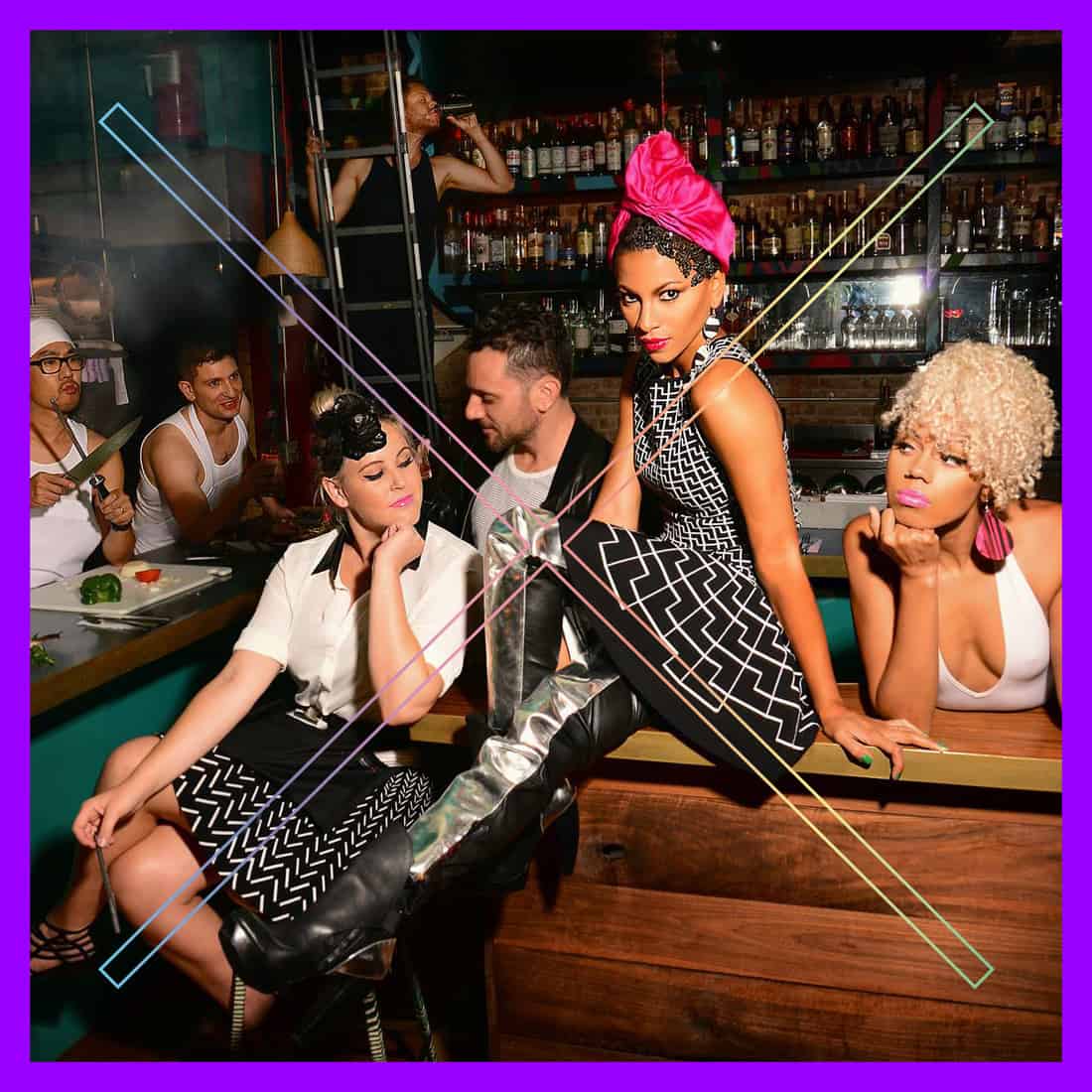 BY JOSH APPELBAUM
[soundcloud url="https://api.soundcloud.com/tracks/202996956″ params="color=9900ff&auto_play=false&hide_related=false&show_comments=true&show_user=true&show_reposts=false" width="100%" height="166″ iframe="true" /]
It's been nine years since Brooklyn-based Escort released their first single 'Starlight,' helping to usher in a new generation of lush nu disco music to the masses.  The 17-member band was assembled by producers Eugene Cho and Dan Balis and fronted by vocalist Adeline Michèle.  Escort's self-titled debut album dropped in 2011 to critical acclaim and even made an appearance on Rolling Stone's Top 50 albums of the year.  After four very long years, the disco/funk super group are back with 'Animal Nature', the title track off of their forthcoming full-length release.  The hypnotic, polished track stays true to Escort's traditional lush sound while adding a bit of a darker, sultrier vibe.  The album is out on October 30th on Escort Records.
[soundcloud url="https://api.soundcloud.com/tracks/217063829″ params="color=9900ff&auto_play=false&hide_related=false&show_comments=true&show_user=true&show_reposts=false" width="100%" height="166″ iframe="true" /]
Production duo Brame & Hamo put together a really soft and beautiful remix of Closed Paradise's 'Planets.'  The vinyl-only release is available on August 17th, for those of you who have are still holding it down with 12″ records.
Kraak & Smaak continue to remain innovative and consistently release stellar records.  'Seb's Party,' frequently used as a secret weapon in their live DJ sets, is a fused funk and house track with a catchy vocal sample that enhances the synths and drums.
Zimmer is known for adding a dreamy, tropical twist to his brand of house and disco tracks.  'Moonrise' keeps a bit of that element intact while building a mellow dreamy track that you would expect from the song's name.
Aussie producer Light Year dropped the 'Bell Trax' this week, a 7-minute track that edges on being spacey while keeping a strong drum track intact.  The song pulsates, and it shines as a stand out dance floor track.
Sandy Rivera, aka Kings of Tomorrow, is a living legend in the deep/soulful house world, perhaps best known for his 2000 release 'Finally' featuring vocals by Julie McKnight. He returns to Defected Records with vocalist April for 'Burn So Deep,' with both a house and disco mix as part of the release.
Though he's made his name on tracks that are really reminiscent of 90's house music, Duke Dumont's latest single, 'Ocean Drive,' gives off some serious nu-wave vibes.
House music icon Todd Terry delivers 'Sinister' this week on Dim Mak records, a house track that has some serious acid and techno influences punctuating throughout.
OCCUPY THE DISCO (OXD) curates and recommends music events to the gay community in NYC—in an effort to move the focus of the nightlife scene beyond the promoter and venue and to the music itself. OXD's goal is to educate, entertain, engage and empower the gay audience to reclaim their ability to question and experience the unknown. The OXD Mirror will serve to showcase tunes that are definitely off-the-beaten-path but rightfully deserve the attention of the gay ear.
Follow us on Spotify!  Subscribe to our 'As Seen on Towleroad Playlist to listen to tracks posted from past weeks. For more information on OXD, check out our website and accompanying blog at www.occupythedisco.com, like us on Facebook, or follow us on Twitter: @OccupyTheDisco.