Ryan Berg begins this account of LGBTQ teens in New York City's troubled foster care system with statistics that are at once shocking and painfully familiar. "Children placed in foster care are more likely than veterans of war to develop post-traumatic stress disorder," he writes, and LGBTQ teens—who make up 40% of homeless youth—are especially vulnerable: "70 percent of LGBTQ youth in group homes reported violence based on LGBTQ status; 100 percent reported verbal harassment."
The book opens in 2004, when—almost thirty and a recent college graduate—Ryan Berg took a job as a residential counselor at a group home for LGBTQ teens in New York City. White, Midwestern, raised by loving parents, his own experience couldn't be further from that of the youth now in his charge. The job is poorly paid and intensely demanding, and Berg is immediately overwhelmed by the constant struggle to get his charges to school or to work, to keep peace in the household, to provide anything like the attention each of them demands.
There's a familiar shape stories like this nearly always take, one in which the author, initially daunted, quickly gets his bearings and gets to work. He struggles and suffers setbacks, and, though he's tempted to give up, perseveres until his efforts are rewarded. He makes a difference in the lives of those he has come to save; more importantly, he learns crucial lessons about himself. In this kind of book, the author is always at the center of the story, and whatever happens in the lives around him, it's always his own experience that the reader cares about most.
No House To Call My Home is a very different kind of book, and maybe what's most impressive about it is how uninterested Berg seems in his own experience of the two years he spends working in the New York foster care system. It's not that he's an absent figure, or an unsympathetic one—we see his exhaustion, we follow him home and watch him drink to assuage his frustration, we experience his mounting despair as his efforts seem increasingly fruitless.
But Berg's feelings are never the book's main concern. Instead, he offers us vivid, beautifully drawn portraits of the young people in his care. Almost all from backgrounds of poverty, many of them victims of sexual and physical abuse, some of them HIV-positive, they face daunting challenges as they confront the prospect of "aging out" at twenty-one, when they can no longer remain in the group home.
Their choices are often frustratingly self-defeating, but Berg tries to listen hard enough to understand them. "School has never been about learning," he says of one student who, despite his obvious intelligence, refuses to apply himself in his classes. "It's about finding ways to survive." When a transgender woman turns, like many of the residents, to sex work, he notes what the money means to someone whose only access to hormonal treatments is through street dealers; more than that, he realizes, "for a brief moment in the arms of a trick she's no longer treated as a freak; she's desired."
Berg is ruthless in his criticism of the foster care system. "The sense of security we pretend to offer is superficial," he writes, "and the reality, the scarcity of protection, feels morally criminal." Decisions about young people are made by caseworkers who barely know them—and who, in many cases, are woefully unprepared or unwilling to meet the needs of queer youth. Expedience replaces real care; when a patient who has acted out is quickly prescribed medication, "it becomes clear that a diagnosis—even a possible misdiagnosis—reads as due diligence to the powers that be."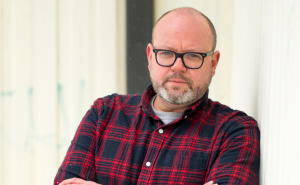 Even as they can bring him to the point of despair—"This child is doing everything in her power to die on the streets," one of his colleagues says at one point—Berg never loses a fundamental admiration for the young people he works with, who have survived conditions he finds it difficult to imagine. "Reinvention is a large part of black and brown queer youth culture in New York," he notes, amazed at the imaginativeness and confidence of his charges' self-presentation. When one teen cows a group of young men who have made homophobic comments in a restaurant, Berg writes that "The force and authority in her voice leaves me breathless."
"People prefer to ignore tragedy unless there's redemption in the end," Berg writes. No House To Call My Home doesn't offer redemption, and there's little balm for the tragedies it recounts, some of which are crushing. But Berg refuses to allow tragedy to exhaust the lives of the young people he works with, who are funny, resourceful, bright, loving, who manage not to give up on a world that too often turns its back to them.
It isn't just the straight world that has failed these kids, and Berg's book should be required reading for anyone who cares about LGBT advocacy. "The mainstream LGBTQ movement does a poor job of addressing the needs of the most visible LGBTQ youth (white, middle-class)," Berg writes, "and often completely ignores the least visible (youth of color, poor, or transgender)."
Berg's book makes the lives of these brave, vulnerable, brilliant, fierce young people impossible to ignore.
Previous reviews…
Vivian Gornick's 'The Odd Woman and the City'
David Crabb's 'Bad Kid: A Memoir'
Helen Humphreys' 'The Evening Chorus'
Connect with Garth Greenwell on Twitter.