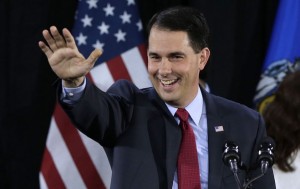 Speaking at a town hall in rural southwest Iowa yesterday, Wisconsin governor Scott Walker laid out his anti-LGBT policy plans should he win the 2016 election, telling the crowd "the most appropriate and timely focus for the next president is to focus on defending religious liberties."
The Washington Post reports:
He said that he would support a constitutional amendment but then listed off what that would take: First, Congress would have to approve it by a super majority. Then it would have to be ratified by three-fourths of states.
"Clearly, though, that is a difficult standard," Walker said. "Not just on this amendment but on any other out there."
Given that, Walker said, it would be better for the next president to instead focus on defending religious liberties. He said that Wisconsin's constitution has long had "very explicit language about protecting religious liberties," along with some "anti-discriminatory language."
"We've shown for many, many, many years that we make it work — we can defend religious liberties and it has worked out just fine," Walker said. "We need a president and an administration who's going to stand up and defend religious liberties in this country: The freedom of religion, not freedom from religion."
Wisconsin has banned discrimination based on sexual orientation (but not gender identity) since 1982.