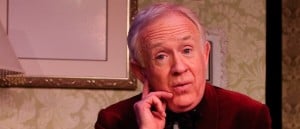 Yesterday, we told you the incredible story of character actor Leslie Jordan confronting a group of men who were shouting anti-gay slurs at a West Hollywood Starbucks earlier this week.
Jordan, perhaps best known for his role on gay-centric shows like Will & Grace and Sordid Lives, reportedly told the men to "get out of our house" before throwing his iced tea on the phobes.
Locals interviewed after the incident called Jordan a "hero," but the actor pushed back a bit against the designation in a Facebook post Friday night.
I was hoping to remain silent on the incident at Starbucks but somehow the story found legs and has made its way into the press. I feel I owe my friends an explanation:
Truth be told it was "sweet" iced tea, not coffee. I am a "sweet" mannered Southern boy who was taught not to start a fight. Nobody ever told me I could not end one. I refused to sit and watch these hate crimes continue. I guess our work for equality is not done yet!
I'm being hailed a hero which is all well and good but I lost my temper. My heroes in life always kept their cool.
Anyone who stands up against hate is a hero in our book. Thank you Leslie!