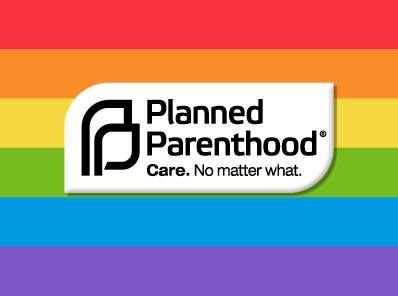 LGBT groups are standing with Planned Parenthood as the reproductive health organization faces a new barrage of attacks from right-wing activists and lawmakers.
Republicans in Congress are calling for the group to be defunded after the right-wing Center for Medical Progress released secretly recorded, heavily edited videos allegedly showing the illegal sale of fetal tissue. Planned Parenthood maintains it follows all laws and ethical guidelines, but CNN reports the controversy could now lead to a government shutdown in October.
Abortions account for only about 3 percent of Planned Parenthood's services, and the organization is hugely beneficial to the LGBT community. Planned Parenthood tests both men and women for sexually transmitted diseases. It also provides cancer screening, birth control, sex education, and even hormone therapy for transgender patients.
Which is why it isn't surprising that LGBT groups issued statements this week in support of the organization.
From Rea Carey, executive director of the National LGBTQ Task Force:
"Why should LGBTQ people care about Planned Parenthood and other reproductive health providers? Because LGBTQ people use birth control, have abortions, get tested for HIV, get screened for breast and cervical cancers, and use fertility treatments – and many people receive those services through Planned Parenthood. We also recognize that those who attack organizations such as Planned Parenthood have a view that disavows empowered decisions about our reproductive health and LGBTQ people's empowered decisions about how to build our own families.

"Finally, we all need reproductive rights and justice because our respective hard won legal rights as LGBTQ and as a reproductive rights movements, respectively, have long been intertwined through Supreme Court decisions going back over 40 years. From Roe v. Wade, to last year's Hobby Lobby ruling, to the successful marriage decision this summer, our ability to live our lives fully and to not be discriminated against are dependent on each other's progress. Reproductive health is an LGBTQ issue," said Rea Carey, Executive Director, National LGBTQ Task Force.
From Kate Kendell, executive director of the National Center for Lesbian Rights:
"NCLR stands with Planned Parenthood at this time of unrelenting assaults. The specious allegations being leveled against this critical network of health centers are nothing more than a transparent attack on the ability of all people to receive compassionate, non-judgmental reproductive and preventive health care.

"Planned Parenthood health centers and other reproductive health care clinics, in addition to providing essential family planning and abortion care, are often the only source of care for many in underserved and vulnerable communities. For many LGBTQ people, who experience stigma and discrimination in the health care system, the specially trained staff and tailored programs – including services for transgender people – offered at these clinics are a lifeline.

"When the U.S. Supreme Court affirms our fundamental rights, it is often the beginning, rather than the end, of the struggle. As it has been for reproductive rights, so will it be for full LGBTQ equality. As an organization committed to securing the rights of LGBTQ people, the fight for full reproductive freedom is our fight too."
The Human Rights Campaign, the nation's largest LGBT group, hasn't issued a press release, but JoDee Winterhof, HRC's vice president for policy and political affairs, wrote in a  blog post:
Right now, Planned Parenthood Federation of America (PPFA) is the target of an intense, politically-motivated smear campaign–fueled by misinformation and potentially illegal tactics–and it's being driven by an extremist group that seeks to not only attack our fundamental right to access quality health care, but undermines our basic dignity as Americans.

PPFA provides vital medical services to many in the LGBT community–including routine examinations, pre-natal care, cancer screenings, HIV and STI testing, and contraceptive services, among other reproductive health care services.  Not only that, but they are strong allies in the fight for full LGBT equality–including supporting the recently introduced Equality Act and other legislative priorities.  The organization also joins HRC in strongly advocating for comprehensive, LGBT-inclusive sex education for our nation's young people.

While some opponents of women's rights and LGBT rights in Congress gear up again to try and defund this vital organization, we stand with PPFA.
Watch Planned Parenthood President Cecile Richards' official response to the controversy below.