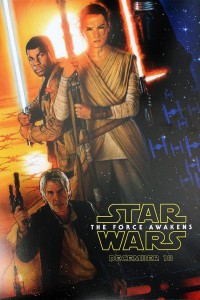 Here it is, the first official poster for what might very well come to be the biggest movie of the decade.
Revealed at Disney's D23 Expo yesterday, this Star Wars: The Force Awakens poster features Daisey Ridley as Rey, John Boyega as Finn (sporting a new, blue lightsaber), a masked Adam Driver as Kylo Ren, and of course Harrison Ford as Han Solo.
The film arrives in theaters December 18, but to hold you over until then here's a reactions mash-up to the second teaser trailer released back in April.
https://www.youtube.com/watch?v=yPraDZ3ApHs