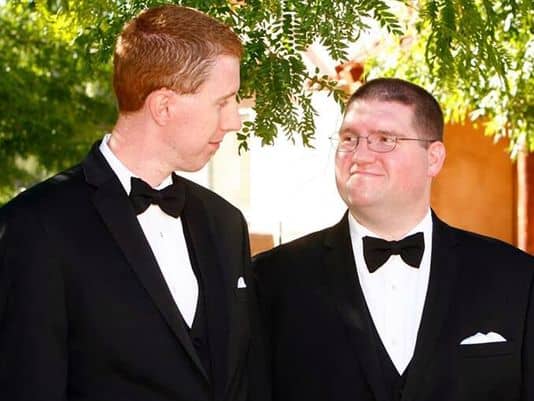 Facing a contempt hearing for defying the U.S. Supreme Court's decision in Obergefell v. Hodges, Texas officials finally issued an accurate death certificate Thursday to a gay man whose husband died earlier this year.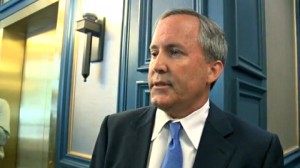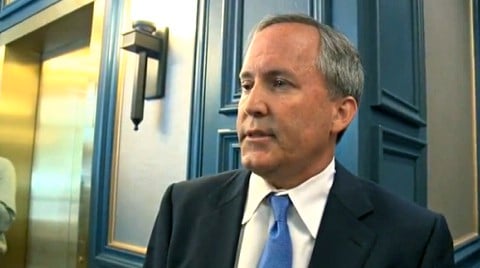 On Wednesday, we reported that a federal district judge ordered Texas Attorney General Greg Paxton and Kirk Cole, interim director of the Department of State Health Services, to immediately issue a death certificate to John Stone-Hoskins listing him as the husband of James Allen Stone-Hoskins, who died in January after the couple married in New Mexico last year.
The judge also ordered Paxton and Cole to appear in court to explain why they shouldn't be held in contempt for refusing to issue the death certificate for 40 days after the high court's ruling, despite repeated requests from John Stone-Hoskins, who is dying from cancer and now has 45-60 days to live.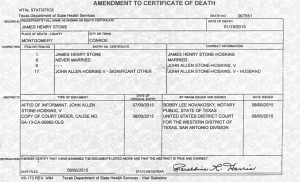 On Thursday, Stone-Hoskins received an amended death certificate listing him as "husband" instead of "significant other." Carrie Williams, a spokeswoman for the Department of State Health Services, said in an email Thursday night:
The state health department has issued an amendment to the death certificate for James Stone-Hoskins. It now lists John Allen Stone-Hoskins as his spouse.
The amended death certificate was issued this evening as ordered by the U.S. District Court and requested by John Stone-Hoskins.
As the state health department, we are responsible for the accuracy of vital records and comply with legal requirements for issuing these records.
Williams added that "legal questions should go to the AG's office," which suggests it was Paxton — not her agency — who prevented the death certificate from being issued.
Paxton and Cole are scheduled to appear in federal court next Wednesday for the contempt hearing, when the judge could impose whatever sanctions he sees fit. Paxton, of course, is already facing three felony charges for alleged securities fraud.
View the amended death certificate below.