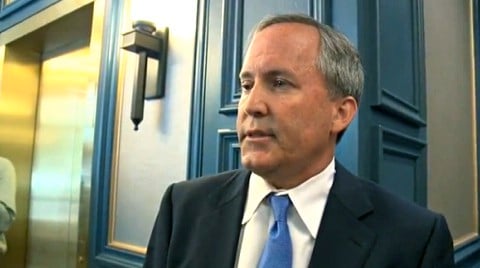 Rabidly anti-gay Texas Attorney General Ken Paxton will be indicted Monday on three felony charges, according to media reports.
Paxton admitted to violating the State Securities Act last year after he solicited investment clients for a friend and business partner without properly registering with the state. He initially received a $1,000 slap on the wrist, but a subsequent investigation by the Texas Rangers concluded that the violations were far more serious.
A grand jury reportedly indicted Paxton last week, but the charges were immediately sealed. They will be released on Monday, and a judge has already been assigned to the case.
WFAA-TV reports:
After the indictments are unsealed, Paxton can surrender to be photographed, fingerprinted and booked at any of the state's 254 county jails. …

Paxton does not have to resign or step down from statewide office as he prepares to face a criminal trial. He can continue to work, just as Gov. Rick Perry did after his two felony indictments in August 2014.

Paxton's case, legal experts predict, will go to trial since his law license and statewide office are now on the line.
Paxton, a tea partier, vigorously defended the state's same-sex marriage ban, even filing a lawsuit seeking to prevent gay workers from taking unpaid leave to care for their sick spouses. In February, after a lesbian couple wed in Austin, Paxton sought to void their marriage, even though one of them has ovarian cancer. Paxton also appeared at an anti-gay hate rally alongside Alabama Chief Justice Roy Moore, and blamed the demise of anti-LGBT legislation on a small group of hateful gay activists and their corporate cronies.
Paxton later issued a non-binding opinion suggesting that county clerks could refuse to issue marriage licenses to same-sex couples, and calling the U.S. Supreme Court's ruling in Obergefell v. Hodges "lawless."
A special prosecutor assigned to the case has said he would seek a first-degree felony charge against Paxton, punishable by up to life in prison, since the securities violations resulted in losses of more than $100,000. However, Paxton spokesman Anthony Holm has denied the AG did anything wrong. From WFAA:
Holm also has accused the special prosecutors of being biased and unfair, and engaging in a political witch hunt.

"The securities board was very clear this was no crime," he told News 8 on Tuesday. "It was resolved last spring. It was a civil event. It was a $1,000 fine and we are only here because of liberal activists."