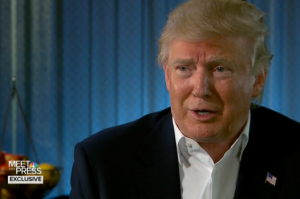 Presidential hopeful and reality tv star Donald Trump has voiced his support for nondiscrimination protections for gay employees.
Speaking on Meet the Press yesterday, Trump said being gay should not be a reason for companies to fire workers.
Trump wasn't pushed for details by host Chuck Todd and the issue of protections for transgender workers was not raised.
The former Apprentice star went on to say he would deport undocumented immigrants who were brought to the U.S. as children. He also said he would block federal funding for Planned Parenthood, would not raise the minimum wage and condemned the recent nuclear arms treaty with Iran, saying it would lead to a "nuclear holocaust".
Back in June, Trump ballsed up an attempt to justify how he can support "traditional marriage" when he has been married three times.
Watch the interview below [discrimination comments come around 27:00 mark] –
https://www.youtube.com/watch?v=QPVrdWu2iW4
[h/t The Advocate]