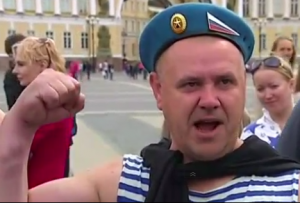 A group of gay activists picketing at a St. Petersburg square over the weekend had a showdown with angry ex-paratroopers before being detained by police. The paratroopers were gathered in the square to mark the Airborne Forces Day on Sunday.
The AP reports: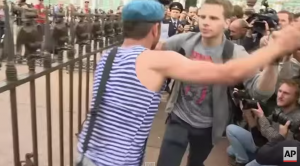 "What they do here is not right, it's terrible," said one veteran paratrooper, Alexander Fadeyev, who tried to tear the slogans from protesters' hands. "We're in Russia and not in America. Let them do what they want in America, but not in Russia."
"We will beat up all these gays," added another (pictured top) before flexing his muscles to the camera.
According to Reuters, the activists were protesting the city's repeated refusal to allow a gay pride parade to take place.
Watch footage of the clash below:
https://www.youtube.com/watch?v=T4-AiiBT1jM