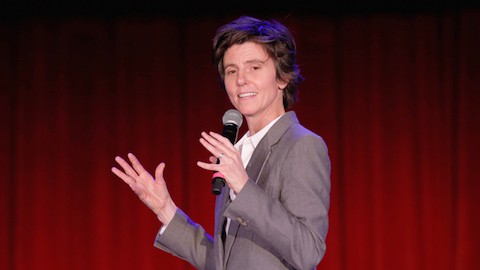 Check out our weekly guide to make sure you're catching the big premieres, crucial episodes and the stuff you won't admit you watch when no one's looking.
— If you haven't yet heard comedian Tig Notaro's now legendary stand-up set from LA's Largo, Live, stop reading this and download it immediately. Then, stream the Netflix original documentary about what happened after the remarkable night where Notaro detailed her battle with a serious illness, losing her mother and then getting diagnosed with cancer in a matter of months. THEN, check out her new special Tig Notaro: Boyish Girl Interrupted, premiering Saturday at 10 p.m. Eastern on HBO.
— Get some global perspective with Out and Around, a new documentary airing tonight on Logo at 9 p.m. Eastern. Jennifer Chang and Lisa Dazols traveled the world and spoke with LGBT leaders across the globe to learn more about the community in more than a dozen countries.
— This Thursday's Project Runway is all about cruising. In this season's first team challenge, the designers are tasked with creating vacation fashion worthy of the high seas. See who sinks and who swims Thursday at 9 p.m. Eastern on Lifetime.
https://www.youtube.com/watch?v=veZ7sfUzUTw
— It might be 20 years since Full House has aired a new episode, but this Saturday Lifetime promises to air some dirty laundry about the hit sitcom. In The Unauthorized Full House Story, premiering Saturday at 8 p.m. Eastern, backstage tensions and terrible wigs take center stage.
https://www.youtube.com/watch?v=4gTz9pZD7qg
— I Am Cait has been building up the tension between Caitlyn and the rest of the Kardashians. This week the least likable member of the extended Kardashian family, Scott Disick visits Jenner's Malibu home Sunday at 8 p.m. Eastern on E!.
What are you watching this week on TV?