Chicago is our most American city. It's the cosmopolitan heart of the Midwest, the home of Barack Obama, the Chicago Cubs, deep-dish pizza, Al Capone, the (former) Sears Tower, and Oprah. It's where the iconic Chicago Theater marquee is lit every evening. And with sports teams with names like Cubs and Bears (and strapping hotties like the one below), you know it's one hell of a gay city. The Windy City is an icon, a foodie town, a gay centerpiece, and an innovator of art and culture; it's America's Second City that's becoming first in just about everything. The Windy City Times is another icon, a great gum-shoe print and online publication that has stayed relevant for 30 years. They're a good source for what's happening during your visit.
The winters here in Chicago can be brutal, but in late summer and fall, the sun is out and the city is cooled by breezes from Lake Michigan, which also bring the Chicago International Film Festival from Oct. 15-29, 2015 where some of the hottest new indie flicks (and the occasional LGBT film) are screened and buzzed about by the Hollywood elite. This isn't the only reason to go to the Windy City in the fall but it's a good one. And you'll get to experience some of the things we love about this great American city. Here are just five; head to Chi-Town and add (plenty more) to your Chicago love list.
1. The Public Hotel Chicago: This marvelous Ian Schrager property has a spectacular location in the heart of everything in downtown Chicago. The lobby and lounge are chic and sexy, and rooms are modern and bright. Its Pump Room restaurant remains one of Chicago's most stylish places to see and be seen. And the food is fantastic.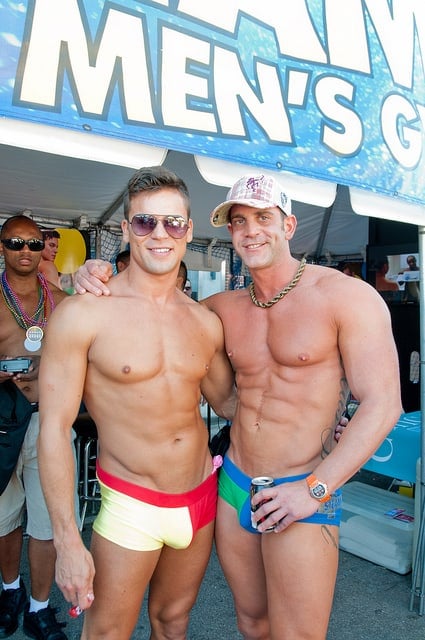 2. Cocktail Bar & Restaurant: With a name like Cocktail you know this has to be generic or amazing. It's the latter. With the perfect alchemic combination of music, vibe, crowd, and well, cocktails, this places packs in locals and visitors alike who often line up out the door, even in the very cold winter. 
3. Alinea Restaurant: Alinea has often been ranked as the best restaurant in the world. It's an experience more than a restaurant and should be viewed as a spectacle, as one would view a Broadway show. And the price reflects that. The chef at Alinea is making art, and reinventing what we thought could be done with food.
4. Cloud Gate: Take a selfie at this iconic bean-shaped sculpture (pictured above) located in Millennial Park. Even better is the live concert amphitheater. Check the website for upcoming shows and snag tickets when in season in the warmer months. The Crown Fountain and visual art is stunning.
5. Willis Tower Deck: At 108 stories, the Willis Tower (formerly known as the Sear's Tower) was once the tallest building in America (it's now the second tallest in the U.S. and the twelfth tallest in the world). The skyjack and views are some of the best urban views you'll ever see. Check out our reaction on the Ledge below. This building, built in 1974 and still surprising and delighting visitors, is a historic Chicago landmark and a piece of history that's worth a few hours of your time.
Photo credits: Cloud Gate: Robert Lowe; Middle: Matthew Smith; Below: Skydeck at Willis Tower: David Fuller
This weekly travel column is brought to you by ManAboutWorld, an immersive digital gay travel magazine for iOS and Android devices from Ed Salvato, Billy Kolber, Kenny Porpora, and nearly 75 Global Correspondents. For more recommendations from ManAboutWorld's global gay experts, download our App. There are FREE guides and a 10-issue-per-year subscription-based magazine.