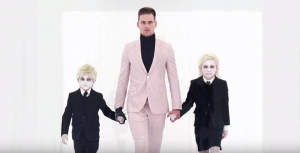 The first trailer for American Horror Story: Hotel has been released, and while its hard to make out any concrete plot details from the 30-second spot, the "Hallways" trailer gives you a glimpse of the creepy cast of characters this season.
AHS: Hotel premieres October 7 and stars Lady Gaga, Sarah Paulson, Kathy Bates, Angela Bassett, Wes Bently, Matt Bomer, Chloë Sevigny, Denis O'Hare, Cheyenne Jackson, Evan Peters, Darren Criss, and others.
Watch:
https://www.youtube.com/watch?v=ghrEiLgehDU
Want to stay up-to-date on our episode reviews of American Horror Story: Hotel starting next month? Click HERE and LIKE our page on Facebook. Select "get notifications" in pulldown menu to receive our headlines in your feed.