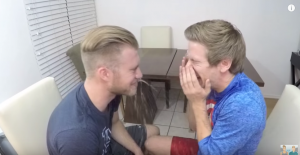 Gay YouTube couple PK Creedon and Mike van Reekum decided to put their own Amy Schumer spin on the Innuendo Bingo Challenge, in which players fill their mouths with water and see who can listen to an innuendo-filled clip and resist spraying all over their opponent.
The results are hilarious and more than a little bit messy.
Check it out below. And if you missed British diver Tom Daley's wet attempt at the challenge last week, you can watch it here.