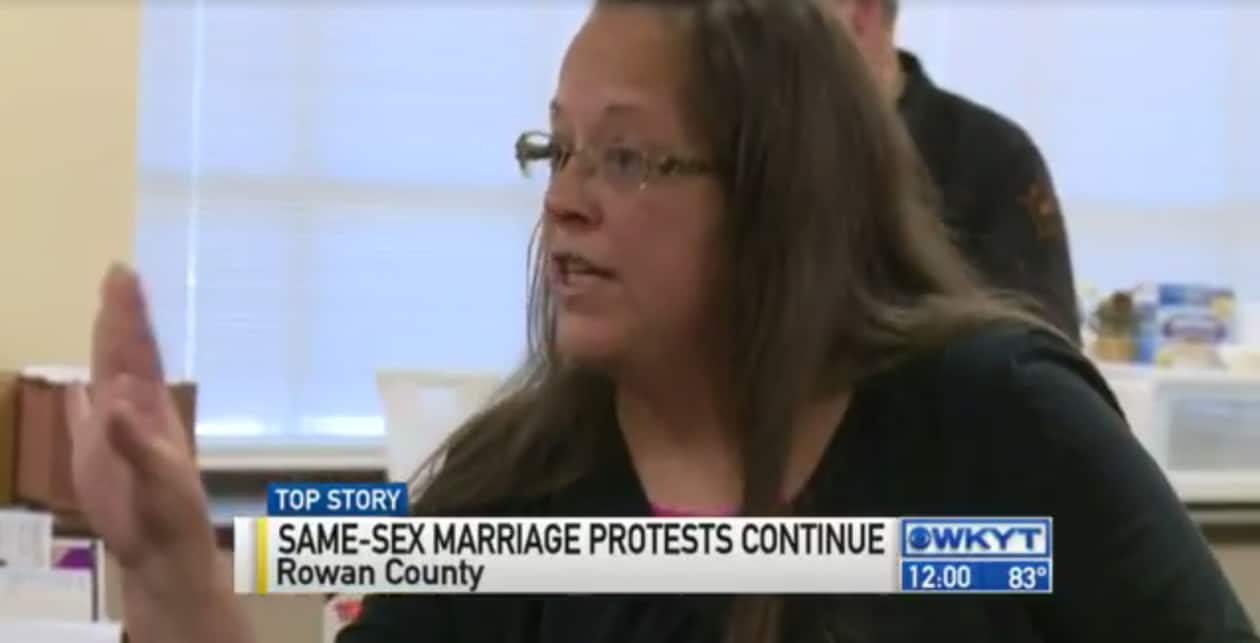 Rowan County, Kentucky clerk Kim Davis is back at it. On Wednesday, she denied another gay couple seeking a marriage license from her office.
Robbie Blankenship and Jesse Cruz from Columbus, Ohio traveled to Rowan County to get a license because they have roots in Kentucky, as The New York Times reports:
"My roots are all from Kentucky, and from the get-go, I said, 'When all the states are legalized, we will come to this state to be married, where my parents were married,' " Mr. Blankenship said. "I am here because I want to have a marriage from the State of Kentucky. This is where my roots are. This is the land that I love. This is where I feel I belong."
Davis did not change her tune when pressed by Blankenship and Cruz as to what legal authority she has to deny them a license, given that the Supreme Court effectively legalized same-sex marriage in June:
"What authority do you have under the United States Supreme Court?" Mr. Blankenship called out as Ms. Davis left the scene of reporters, demonstrators, deputy clerks and law enforcement officials. "None."
"You are a disgrace," he continued. "You are a disgrace."
Protestors and supporters of Davis were both on hand in the courthouse Wednesday. While Davis' supporters chanted, "Stand your ground!", marriage equality advocated shouted back, "Obey the law!"
Local news station WKYT was on hand to record the tense moments in the Rowan County courthouse, between Davis and the couple seeking the license as well as between Davis' supporters and her foes.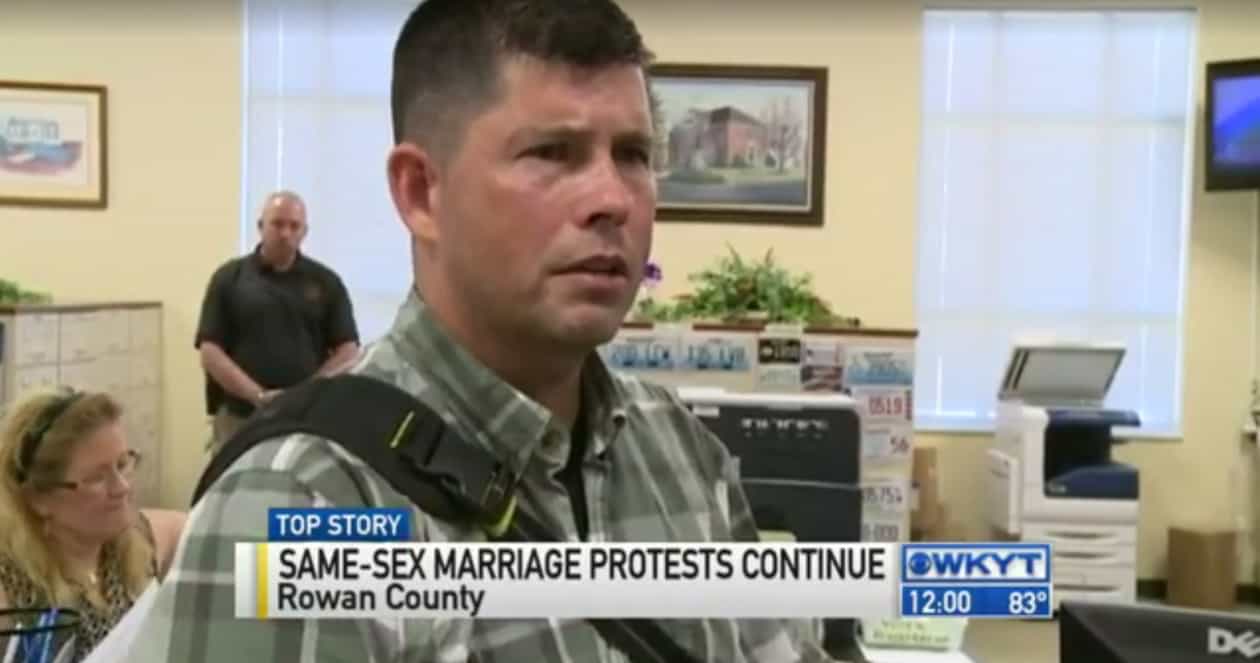 Blankenship became emotional after being denied a license by Davis. Speaking through tears, he told WKYT, "I want to do that. And I want to do that recognized by the United States of America, by the State of Kentucky, and by this county."
Blankenship and Cruz vow to return tomorrow, after Davis and her entire staff are due to appear in court to face possible contempt charges.
MSNBC is also now reporting that Davis' lawyers have filed their response to the motion submitted yesterday asking a federal judge to hold Davis in contempt.
Watch a news report from WKYT below:
Also check out photos from the scene today at Rowan County Courthouse:
https://twitter.com/dominicholden/status/639152777025953792
Already a crowd waiting to speak to the county clerk. #KimDavis pic.twitter.com/C9rG1TdpX1

— Victor Puente (@thevictorpuente) September 2, 2015
Crowd starting to grow. Kim came out and told the media she wouldn't be talking. Also told us to have a good day. pic.twitter.com/n9AiEOIRTw

— Victor Puente (@thevictorpuente) September 2, 2015
Thing just got a little heated in the clerk's office. pic.twitter.com/6Iw5wq9v7P

— Victor Puente (@thevictorpuente) September 2, 2015
Full update of everything that happened in Kim Davis' office coming up at 12 on @WKYT. pic.twitter.com/A7DLChoF7M

— Victor Puente (@thevictorpuente) September 2, 2015
UPDATE: Davis' attorneys have filed an injunction against Kentucky Governor Steve Beshear's order that would require Davis to issue marriage licenses to same-sex couples. The Courier-Journal reports:
The motion asks U.S. District Judge David Bunning to enjoin enforcement of Beshear's order while it is on appeal to the U.S. 6th Circuit Court of Appeals.
A spokeswoman for Liberty Counsel, the Orlando-based group that represents Davis, could not immediately explain the intent of the motion or whether it is designed to avert a contempt hearing set for Thursday at which Bunning could jail or fine Davis for failing to issue marriage licenses.
Attorneys for two gay and two straight couples who have sued Davis could not be reached for comment. Davis filed a claim in that suit against the governor saying his order violates her religious liberty as guaranteed under the state and federal constitutions and the state religious freedom restoration act.
In the injunction motion, Davis said she wouldn't object to another county official issuing marriages licenses in Rowan, as long as they are not issued with her signature.