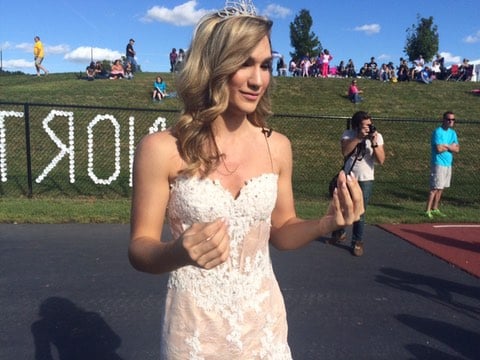 Oak Park High School in Kansas City, Missouri made history by crowning its first transgender homecoming queen last week.
Landon Patterson had always dreamed of being part of the homecoming court, as she told KCTV 5 News:
"I've dreamed about it since my freshman year, but I never knew it was possible for me," Patterson said. "Just knowing that I did this, and that I just broke some barriers, I can't even put it into words what I'm feeling right now. I'm just excited and hope this is going to help others out there."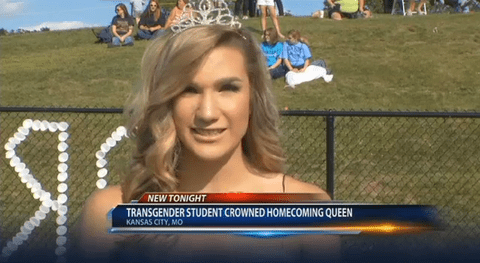 Her classmates said they nominated Patterson for her "spunk" and "tenacity." Fellow homecoming queen nominee Orie Agbaji said, "She has so much strength that I just envy. She's just beautiful and I love her."
Patterson had identified as a gay male but as she grew up she felt there was something "deeper inside": "There was always something so much deeper inside me. I finally realized, I am female. I feel like I'm a girl on the inside."
Patterson's mom Debbie Hall was on hand at the announcement ceremony, embracing her daughter after it was revealed she was homecoming queen. Said Hall, "That's my child. You have to back your children. The haters out there, I just want to say, 'What would you say if it was your child?'"
Ultimately, Patterson expressed her hope that her victory will help others: "I'm hoping it's helping other people in my situation because that's my goal."
Congratulations, Landon!
Watch a news report on Landon's coronation and check out a few more pics of her from the homecoming parade courtesy of KCTV 5, below: