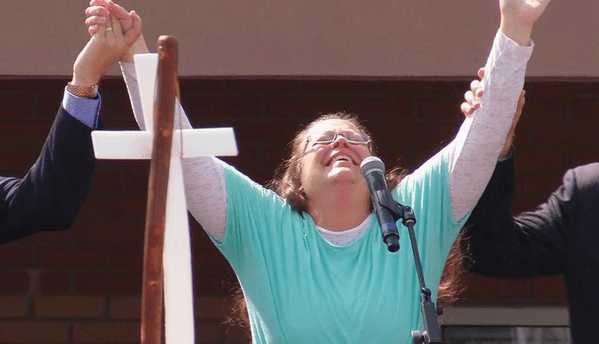 Survivor frontman Frankie Sullivan is not happy that the band's 1982 hit song "Eye of the Tiger" was played as freed criminal Rowan County Clerk Kim Davis mounted the podium at the Christian anti-LGBT hate rally in support of her this afternoon.
Wrote Sullivan on Facebook:
NO! We did not grant Kim Davis any rights to use "My Tune -The Eye Of The Tiger." I would not grant her the rights to use Charmin!
C'mom Mike, you are not The Donald but you can do better than that –
See Ya really SoooooooonnnnnnN!!!!!!…
FS
Let's hope the group takes some action on that.
And if you haven't yet seen the surreal and frankly, batsh-t insane scene, with waving foam crosses that resemble the foam fingers at sports events, check it out: